Your Identity: for what it's worth…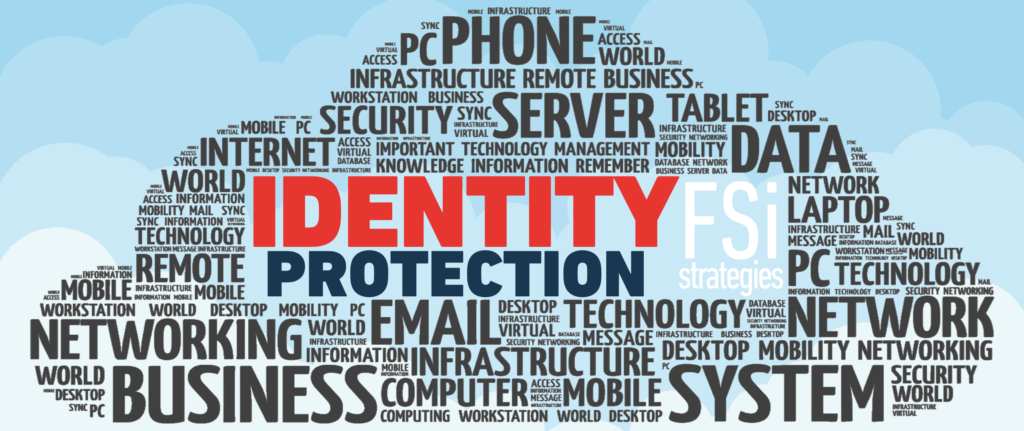 Identity Protection
A little over 10 years ago, conversations about identity information protection along with its varied levels of security while in the cloud seemed unscalable & unpredictable. This year, some 3 billion internet users are estimated to access cloud services; better yet, being managed by one. Virtualization through banking, business applications (i.e., Office 365), media/images, & even video games are stored in the cloud. Whether it's the simple file storage/sharing service like OneDrive, Dropbox, etc., or in an enterprise-driven platform like Microsoft Azure – the more you store, share, or process anything up there – it's all about who you are while upholding your end of the Internet of Things. With high level concerns of ID theft & its domino effect on businesses (or vice versa), consider some tips to a safer, more secure existence.
Locking the door – IDENTITY PROTECTION
Keeping your information through thick walls is key to a healthy identity. Users should consider services with advanced encryption protocols, since a single password can't really do it these days. However, services that exercise information handoff from one device to another require multi-factor authentication (MFA) which is a standard these days. The synergy of identity & authentication (e.g., biometrics) are coated with credential management, network authentication, single sign-on, & (logging) proofs of event and user activity. Being empowered with this world-wide connectivity puts both the consumer and business at ease from fraud and breach. Think of this as a padlock on the front door; it's an extra lock, with a second key to keep you & your information safe.
Lose the paper – SHIFT TO THE CLOUD
Let's be real, don't put all the blame on the internet; some common ways in getting thieved are from paper documents that are not shredded properly. These could be financial statements, loan transactions, account numbers, or even a name and address on a label could be today's trash and soon thereafter, another one's identity. Going paperless when filing confidential documents to a certified cloud platform could be your safest and best archive yet.
Imagine being able to take all your files and putting a padlock around them, this is what a cloud information protection service does. Consider the Azure Information Protection, where each file is encrypted and requires authentication to retrieve them. Even files & folders that are emailed, placed on a flash drive, or stored in another cloud platform will be protected.
BACKUP: it's for the greater good
Having access to your documents in the cloud, means documentation from anywhere. Finding yourself in another country per se, and having your wallet stolen may put your trip on pause, yet possibly in peril. Beat thievery to a punch, when all your necessary information's backed up in the cloud and can quickly be accessed by you. Thus, eliminating the daunting probability of fraudulent transactions, sensitive data breach, hijacked passwords, personal media (or images) misuse, and yes – a stolen identity!
Know more about Office 365 and Azure – our Cloud Experts assist in building a safer, more optimal business environment.