Ignite 2018: FSi in MS Podcast, Office 2019, & more OneDrive!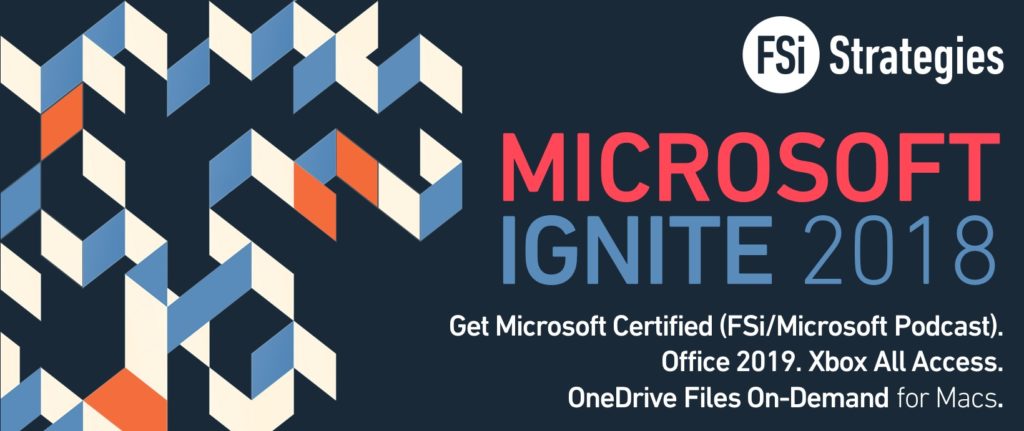 Microsoft Ignite:

Midweek Madness!

There's no such thing as too much information at #MSIgnite. As the week-long conference celebrates its revamped business model & revisiting the surpassed, $100 billion in revenue – Microsoft as well, applauds their developers, customers, & partners. And by investing as early birds towards the intelligent cloud, it's exciting to see what the next years are going to look like.

Safe to say that the tech giant may be saving "some" best for last this week, but the FSi crew is on "no sleep" detail.

A few quick highlights:
FSi featured in Microsoft Podcast! Our very own Microsoft Certified Expert, Nick Connon makes his celebrity debut, on Wednesday morning's "Get Microsoft Certified" recording. Discussions on: pathways to be "be certified" & how it's become a pivotal bullet point in our industry; designing certifications to be more job-focused. Other talks, also include some "go-to resources"  in how to prep  – like the massive course provider, EdX & thoughts on Linkedin Learning to name a few…

See Nick's Podcast here (via SoundCloud)
       
Nick Connon, Technical Analyst & Microsoft Certified Trainer – "Get Microsoft Certified" Podcast. #MSIgnite 
Office 2019 making news like it's Office 2011? Released this week for both PC & Mac – is the next on-premise version of Word, Excel, PowerPoint, Outlook, Project, Visio, Access, & Publisher. It's a one-time release with… see site release here
Nick Connon, alongside Redha Morsli (President & CEO, FSi Strategies, Inc.) #MSIgnite
Try OneDrive's, Files On-Demand for Mac –  Access all your files without consuming device storage space! It works with your personal, work & shared files in Office 365. Once you're up and running with Mac OS Mojave, you're good to go! See preview here.
Behold, Xbox ALL ACCESS! It's simple, why not get on the subscription service train? All Access is a two-year plan that bundles a financed Xbox console with Live Gold & Game Pass. It's just like buying a phone, & you're actually saving about 20%!
Stay tuned for more live tweets & other surprises!
FSi Strategies, Inc. – powered by technology, driven by human experience.