Ignite 2018: Strong Kickoff!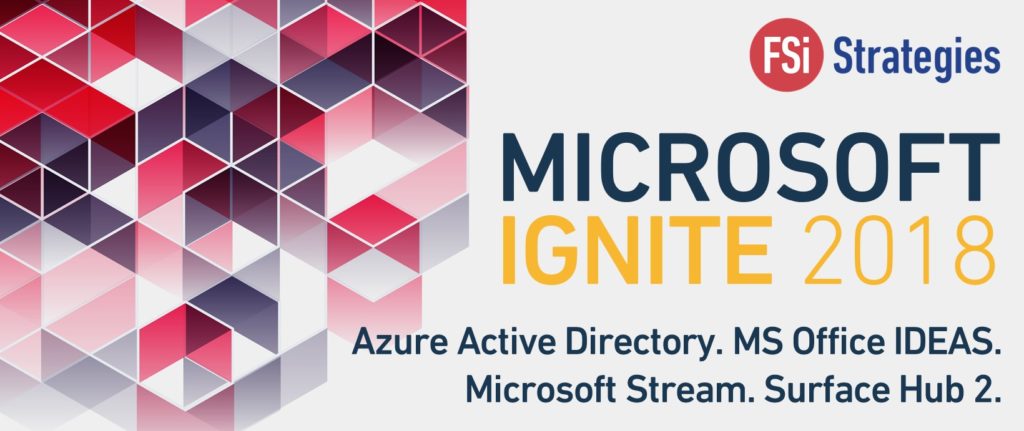 Microsoft Ignite 2018:

Kickoff Recap!

It's #MSIgnite week & our FSi experts are front & center in Orlando! With a little over 30,000 visitors representing future tech updates & game-changing announcements, we're super excited to share some of the following broadcasts from DAY 1:

– Passwords are, "outta here!" without compromising security! With MFA/2FA (multi-factor/two-factor authentication) being pushed more in businesses, Microsoft replaces this with just one single tap on your phone. Within the Azure Active Directory, (Microsoft) Authenticator replaces a password when logging into applications (available in iOS & Android).

– Office gets juiced up and niftier. Introducing, Ideas – where AI tools live within the productivity suite; makes logical suggestions for your PowerPoint layout when drawing blank on a presentation slide. Stretching Excel in pulling rich data from relevant sources – while building a unified search tool within the organization's network.

– Surface Hub 2 = goose bumps! Yeah, it won't release until Q2 of next year, but this 50-inch whiteboard display is lighter, thinner, & and you'll want one!

– Bet on Microsoft to lead the race against their competitors. Bringing its machine smarts to Teams, the collaboration tool can blur backgrounds in video meetings. Also mentioned, Intelligent recordings can produce captions & provide "time-coded" transcripts for replays (available now in Office 365, commercial.) Thinking of creating live streams for your staff? Look out for Microsoft Stream next month!

We're all over Twitter & live streaming through the week! Follow us for real-time events and relevant topics!
FSi Strategies Inc. – powered by technology, driven by human experience.