Microsoft Ignite | The Tour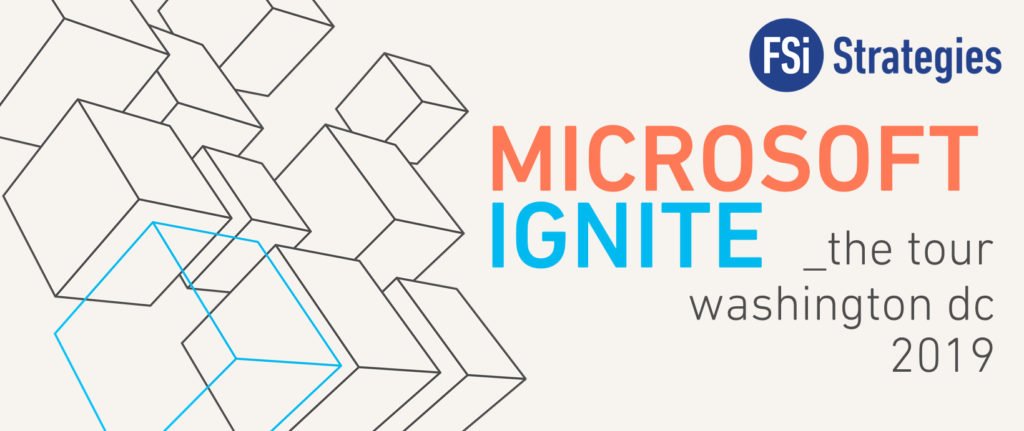 DC welcomes Microsoft Ignite!
The FSi team is locked in and ready. And since it's the ONLY event held in the states, it's extra special to be a part of early February's Microsoft Ignite's, "The Tour" in Washington. We're eager to pick up where we left off from last year's big one – and we stand firm in continuing our expertise & advancement in everything cloud-connected IT.
Ignite is a great way to re-explore; and the session filled, two-day event is quite pertinent when brushing up on latest updates & innovations. Some topics we're always getting excited about:
• Accelerating the modern workplace: migrating, managing, and protecting Office 365
• Protect & collaborate on files in the cloud with OneDrive, SharePoint, & Teams
• Azure Stack & Data Box – a part of your hybrid cloud strategy
• Deploying your applications faster and safer using Azure Services
• Building a world without passwords
• Microsoft Security & the cloud
• …and more
Are you able to attend #MSIgniteTheTour this February 4 & 5? What sessions are you looking forward to? And if you spot those FSi circles during the DC pitstop – stop & say hello! We love having conversations (& inquiries) about our Cloud-Connected Managed IT services, Office 365 Training & Adoption Management solutions, & the Microsoft Teams Phones experience.