Microsoft's End of Life Countdown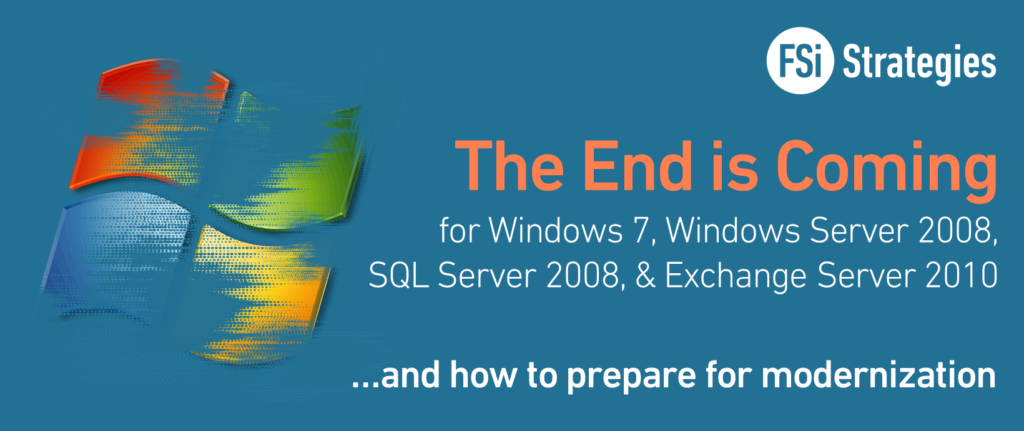 The Clock is Ticking…
As we countdown to (less than) five months, some major Microsoft products will reach its end of support by January 14, 2020: Windows 7, Windows Server 2008, SQL Server 2008, and Exchange Server 2010. No, no – they're not going to stop working on that date, and you'll still be able to boot up; but to the Microsoft term: End of Support is recognized as a period where they will no longer support an existing product when it comes to patches and security updates. Surely, by continuing the use of these products, it increases the risks around stability & performance, security, and compliance. We're here to spread the word, so let's look at a summary of products that are nearing its retirement in the coming months… 
Windows 7
Since its launch in summer 2009, the operating system is still incredibly popular that 39% of PC users still use it. Now, it's "support" is being retired on January 14, 2020; and applies to Home & Professional versions. There is no stopping users from continuing to use Windows 7; but in time, they could start to see more (buggy) security problems. And with the diminishing support – most third-party developers upkeeping the OS will gradually lessen. This becomes common for hackers to find malicious ways to exploit vulnerable systems, including Internet Explorer – a major component of Windows.
Windows Server 2008 (Release 2) & SQL Server
With its extended support ending in January 14, 2020, some IT infrastructures can be at risk. Without security updates and bulletins released by Microsoft, businesses may be exposed to security attacks or compliance risks along with industry regulations such as GDPR. Here are some important (challenges and) opportunities with the fast approaching End of Support:
Optimize Costs:

at the end of support for Windows Server 2008 and SQL Server 2008, your maintenance costs may increase as IT staff continues managing aging hardware, as well as software.

Reduce the risk of security breaches:

without regular security bulletins, it may be impossible to guarantee protection against hackers and malware or prevent unwanted access to sensitive data.

Data regulations & compliance pressure:

By the end of support, systems may fail to comply with GDPR or other regulatory standards. This could lead to many business complications, penalties and fines (and potentially a loss in customer trust.)

Increase scalability & flexibility:

to thrive and stay competitive, businesses need a responsive IT infrastructure to adapt to an ever-changing business environment. If an organization is growing or has fluctuating capacity requirements, they need the kind of flexibility that allows scalable IT resources quickly and cost-effectively.

Enable digital transformation:

digital transformation has become the industry standard. Without modernizing, businesses may fall behind the competition and fail to provide the latest, most up-to-date customer experience.
More information on the advantages of modernization here…
Exchange 2010
After its 10-year life cycle, extended support for Exchange Server 2010 must come to an end with the date above as well. When this support ends, there will be no (security) patches to be released, such as:
Bug fixes for issues that may impact the stability, usability, or performance of the server

Security updates for vulnerabilities that will make the server vulnerable to possible security breaches

Time zone updates

Technical support for critical issues that may occur
Making the Shift to Modernization
Comprised by the best of Windows 10, Office 365, & Enterprise Mobility + Security, is your direct path to the solution. A modern desktop is Windows 10 and Office 365, kept up to date. Making the shift to a modern desktop helps you to foster a highly secure workspace, empowered by the latest productivity, teamwork and collaboration experiences for your organization. For IT Admins, making the shift also removes much of the pain of keeping your desktop environment secure with built-in end point protection and easier access to the latest security updates, as well as improved information protection and integrated identity and access management. Deploying new PCs or getting PCs back to a business ready state gets easier and you can keep your user populations happy and secure with the most up to date experiences.
Stay secure & get help with compliance. Our FSi experts are always standing by to assist with migration and changes for your modern infrastructure.