Blog: OneDrive - Collaborating with Ease
Collaborating in OneDrive
Blog: OneDrive - Collaborating with Ease
Collaborating in OneDrive
Author: Sylvia Ramos
Sr. Project Manager, FSi Strategies
There is no lack of storage today for our many documents and other artifacts that we create. As a result of habits and previous learnings, some of us create multiple versions of documents. We often spin countless cycles trying to find the latest versions of documents we have created and collaborated on with others, especially when the collaboration occurred over Microsoft Teams or email.
In the spirit of collaboration, let's take a look at the three rules to help keep your documents organized and to prevent multiple document versions, when you are collaborating with your team.
One version to rule them all
Don't create multiple versions of the same document. Instead, save your document to your OneDrive folder and turn on the Autosave functionality. In Microsoft Word, it looks like this:

Ensuring that Microsoft OneDrive is keeping track of your versioning means that the document will save every few minutes. Not only does it help recover documents, but you can go into the Version History and recover previous versions. This allows you to retrieve older versions of the same document and review specific changes made – all in one file.
Lock Templates
More often, we realize that everyone has access to a living document you're working on – hence, accidental changes can happen. We've all been there. A quick way to prevent this from happening is by locking the document, mark as final and/or restrict editing in Microsoft O365.
In Microsoft Word, go to File -> Info and click on Protect document.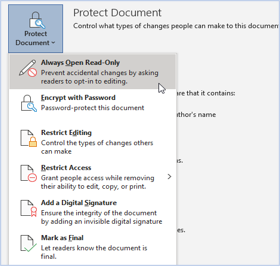 This allows you to share a document safely, even in SharePoint.
Share the link, not the file
When collaborating, it's advisable to share a generated link of your working files rather than the actual file. This works well when collaborating through Microsoft Teams and Outlook. To learn more about working with links, check out Microsoft "Share OneDrive Files and Folder or visit the OneDrive Video Training page.
These three simple rules can help jumpstart your productivity & collaboration; and may also help save time and effort when sharing content with your team. So let the syncing begin!
To know more about syncing your files, see our previous blog: "OneDrive's, Known Folder Move" – or feel free to Contact Us for more information on how you can optimize your productivity & collaboration.
Start a conversation today.
Ask us about integrating your tools & platforms together – with architectural coherence and extensibility. Designing, implementing and supporting Modern Workplace technology is what FSi Strategies specializes in. We've helped hundreds of businesses implement modern security strategies in support of their missions. We invite you to discover how together, we can leverage the intelligent Cloud for the security and privacy needs of your business.