Blog: Building an Approval Workflow Process
Build an Approval Workflow Process
with Microsoft Power Automate
Blog: Building an Approval Workflow Process
Build an Approval Workflow Process
with Microsoft Power Automate
Author: Ryan Jackson
Cloud Developer, FSi Strategies
Organizations commonly implement formal approval processes for their employees within their fundamental operational processes to ensure that business functions exceed standards and stay on target. This can be as simple as ordering office supplies, or as complex as writing contracts and proposals with a multi-stage draft/review process with multiple approval conditions and approvers.
Almost all organizations currently use an approval process. This typically involves an email, or maybe the company uses a pen and paper process. This usually relies on people to have institutional knowledge of how the process works, relying on a few individuals within the organization. The approval process can often be delayed by the approvers busy schedule, vacation, or unexpected absence. It is tempting for employees to shortcut the formal process to save time. However, this generally causes issues later down the road as this becomes "the new process".
While some approval processes can require input from all parties before the transaction can proceed, some are simple and can be designed to proceed once the designated approver approves or rejects the item. Other stages in an approval process may be needed such as requiring comments or feedback for tracking purposes. Doing this in within email or via pen and paper, can quickly lead to chaos, and the dreaded "Who approved this" conversation that no one wants to have. Using a system that can automate, store historical data and comments is the best way to ensure that operations are efficient and streamlined within an organization.
How can this be done to make the formal approval process more efficient and more accountable?
Microsoft Power Automate is an online workflow tool that enables users to create and automate workflows and business processes, streamlining repetitive tasks and boosting efficiency. Microsoft Power Automate connects to other data sources such as Microsoft Dynamics 365 & Microsoft Office 365, along with many more Microsoft and non-Microsoft services.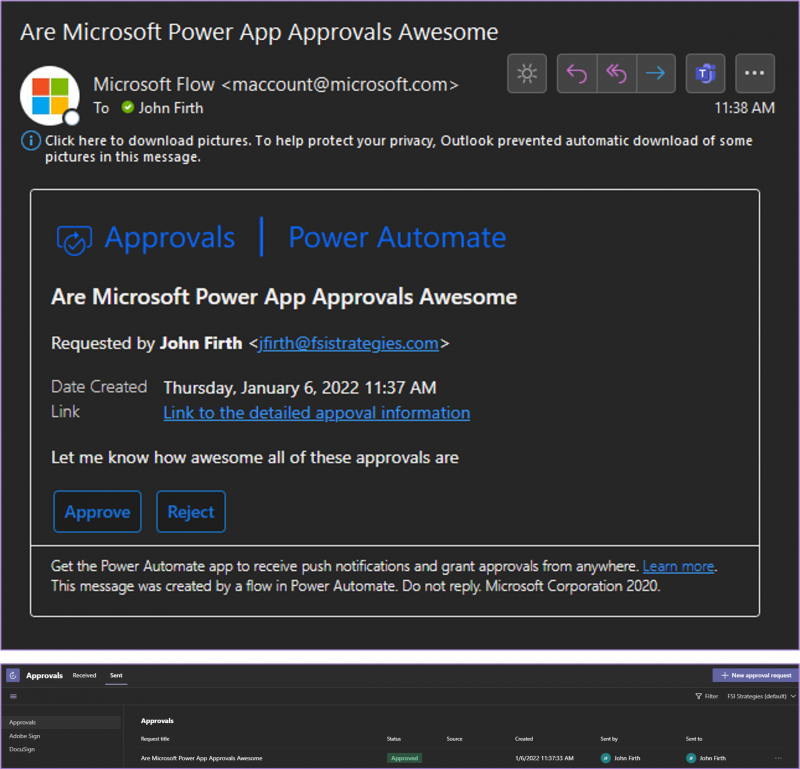 Power Automate Approval workflows make it easy to customize approval workflows for any use. Approval workflows can be implemented into any business process in a wide number of ways. Approvers can easily review their approval requests and respond to them from their PC, Mobile Phone, or Tablet. The most recent additional to Approvals in Microsoft 365 adds the application to Teams. Allowing for a streamlined approach all within the Teams application. Users can easily accept or reject approvals from others, or create their own, all from a central hub.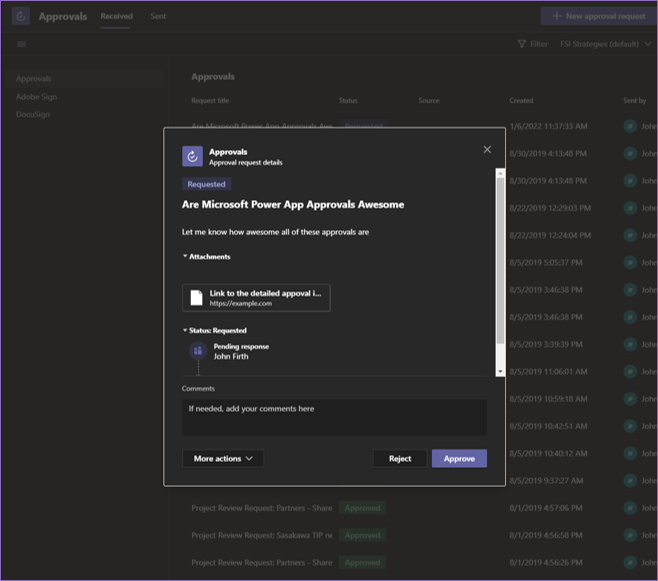 Once approved, the request automatically proceeds to the next step. Every step is logged, and all parties are kept up to date on the progress. The process can be adapted to fit the specific needs of the transaction. For example, if multiple approvals are needed for a request to proceed, the required number of approvers must approve before the request proceeds. Or, in instances where only one approval is required, the request proceeds after approval from any one approver is given.

Why Power Automate?
Power Automate approval workflows help to save time to keep track of approval requests within the organization. They are highly adaptable and can be easily integrated into nearly any business process. Making the approval process easy and fast helps to ensure that employees will follow the formal process and not take shortcuts.
FSi Strategies is a recognized Microsoft Gold-Certified Partner , since 2003 we've helped our clients successfully leverage the strategic value of technology to achieve their mission. Contact us today to learn more about the power of Microsoft 365 and how you can optimize your productivity & collaboration.
Start a conversation today.
Ask us about integrating your tools & platforms together – with architectural coherence and extensibility. Designing, implementing and supporting Modern Workplace technology is what FSi Strategies specializes in. We've helped hundreds of businesses implement modern security strategies in support of their missions. We invite you to discover how together, we can leverage the intelligent Cloud for the security and privacy needs of your business.