Blog: Modernizing your Business Applications
Modernizing Business Applications
Download the webinar event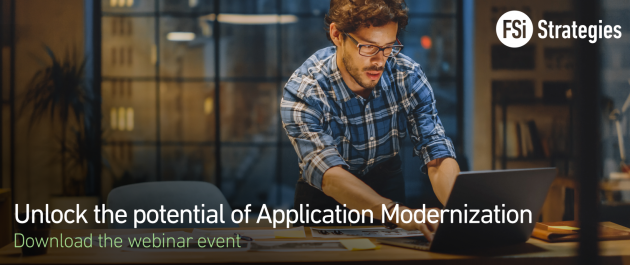 Watch now!
Unlock the potential of Application Modernization.
Within the modern workplace, organizations must continually find ways to become more efficient, cost effective, agile, and productive. Companies routinely rely on business-critical applications to support core business functions. The average business worker utilizes 13 different applications for their core tasks, these applications play a critical role in the way that we work.
Many organizations are running these business-critical application on legacy systems. Gartner defines a legacy application as "an information system that may be based on outdated technologies, but is critical to day-to-day operations."
Organizations on average deploy 129 applications, with 66% of IT budgets spent on maintaining core legacy systems. Modernizing legacy applications provides improved flexibility, productivity, security and increase cost optimization.
Our expert, John Firth will provide practical guidance on identifying the right application modernization approach for your business and how modernizing your line of business applications can lead to increased productivity, security, streamlined development lifecycles, increased application interoperability and more robust analytics.
In this webinar, let's explore:
• 3 Ways to Modernize your Business Applications
• Increase Productivity & Security
• Streamline Development & Application Interoperability
• Improve Analytics
Start a conversation today.
Ask us about integrating your tools & platforms together – with architectural coherence and extensibility. Designing, implementing and supporting Modern Workplace technology is what FSi Strategies specializes in. We've helped hundreds of businesses implement modern security strategies in support of their missions. We invite you to discover how together, we can leverage the intelligent Cloud for the security and privacy needs of your business.