Blog: FindTime - Collaborating with Ease
how FindTime & Reminders can ease scheduling overload
Author: Sylvia Ramos
Sr. Project Manager, FSi Strategies
Despite new communication tools emerging in the workplace, email remains one of the most widely utilized tools to connect, organize, and getting things done – at work or at home. There are a few features within Microsoft Outlook that are not widely utilized that will assist you in enhancing your efficiency and productivity by minimizing the number of emails you send out, while maximizing the impact of your emails.
Let's look at the two features:
• Using the FindTime add-in as your own assistant to schedule meetings.
• Adding Reminders & Follow-ups for your recipients without sending another email.
How to use FindTime to schedule meetings
Microsoft Outlook's add-in, FindTime provides a convenient way to schedule appointments with attendees both inside and outside of your organization. FindTime sends a poll of proposed times to attendees. When it reaches a consensus, a meeting invitation is sent to all attendees, and their calendars are blocked for the specified time that was voted on, saving you time and the laborious process of emailing back and forth to determine an agreed-upon meeting time.
1. Install the Microsoft FindTime add-in if you do not have it on Outlook.
2. To use the add-in, Open a New Message > Add your recipients > on the Toolbar, look for the FindTime icon add-in and click on it.

3. Proceed to update the duration of your proposed meetings. You will notice the green user icons indicating your meeting participants are free at that time; and if the individual is in your organization. If the icons are red, the person is in your Cc list and is unavailable at that time. If it's greyed-out, this indicates an unknown status, because they may be outside of your organization.
4. Start your poll! Select a few dates/times you want to offer your meeting participants. Then click Next.
5. You will see a list of Dates & Times selected as options for the meeting.
6. Click on "Show Poll Settings" and you can see the options selected.
7. At any given time, you can see where you stand at the meeting acceptances by going to the FindTime dashboard.
FindTime Best Practices:
•  Provide 4-8 time/day options.
•  Poll Setting, HOLD to ON. This option will put a HOLD on your calendar dates/times for the respective meeting. HOLDs will be removed once the meeting is booked.
•  Poll Setting, schedule to ON when attendees reach a consensus. Yes, set it and forget it!
•  Allow time for your participants to respond, usually a full business day.
•  Send out a reminder if needed. You can go to the FindTime Dashboard and send a reminder to those who have not responded.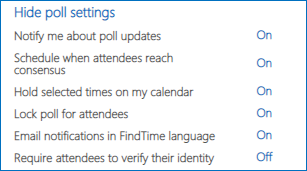 Finally, practice using the add-in so you can see it in action. Once you begin to utilize FindTime for Microsoft Outlook, you will set your meeting times with ease and decrease back and forth emails. For additional information, Microsoft has compiled several articles covering FindTime that can provide additional information. FindTime articles (microsoft.com)
How to add Reminders/Follow-ups to email messages
The Reminders/Follow-up feature within Microsoft Outlook has been available for quite some time. This feature when utilized, can reduce your emails, and allow you to increase your productivity. The use case for this scenario requires that you or the recipient need to follow up via email or have a task to complete.
In the email, click on Follow-up and click on add Reminder: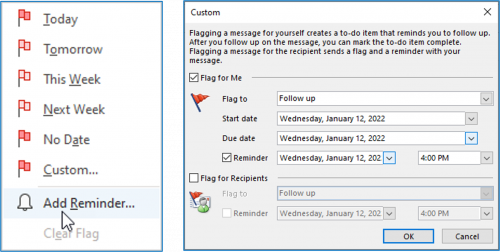 From this menu, you can enable reminders to yourself, recipients, or both. The recipient will get a pop-up with the subject of the email, when the "Flag for Recipient" field is checked.
The options are not limited to just Follow-up but include Read, Reply, Reply to all, among others.
The option that I tend to utilize the most is Reply. This provides the recipient with a pop-up reminder for the date and time set by you. Additionally, you can set two reminders – one time for the recipient to reply by and one time for you to check if a reply has been received. This will ensure that you do not forget that you are waiting on a reply or deliverable.
Know more about productivity & collaboration
FSi Strategies is a recognized Microsoft Gold-Certified Partner, with over 20 years experience, we help our clients successfully leverage the strategic value of technology to achieve their mission. Contact us today to learn how you can optimize your productivity & collaboration.
Start a conversation today.
Ask us about integrating your tools & platforms together – with architectural coherence and extensibility. Designing, implementing and supporting Modern Workplace technology is what FSi Strategies specializes in. We've helped hundreds of businesses implement modern security strategies in support of their missions. We invite you to discover how together, we can leverage the intelligent Cloud for the security and privacy needs of your business.