Blog: Microsoft Project Management Ecosystem
Microsoft Project Management Ecosystem

Your available Microsoft tools and when to use them.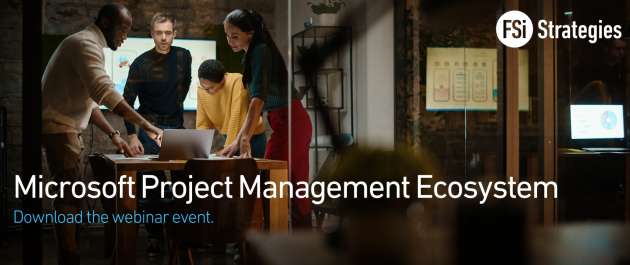 Watch now!
Microsoft Project Management Ecosystem – what to use & when.
The Microsoft Project Management ecosystem empowers you to stay organized, focused and in-charge.
With applications such as Microsoft Tasks, Microsoft Planner, and Microsoft Project, you can effortlessly champion small projects and larger initiatives, to meet your organization's goals.
Whether you have minimal or expert-level project management experience, this vast ecosystem has a platform that meets you where you are and enables you to scale, as your projects grow in complexity.
How do you know which Microsoft platform to use and when?
Understanding the differences between Microsoft's Project Management solutions will enable you to choose the appropriate option that strategically aligns with your project management process with tools that best suit your organization's needs.
Our expert, Sylvia Ramos will provide education on Microsoft's interconnected project management platforms and decode what tools are best to use and when, while simplifying your project management process.
In this webinar, you'll discover:
• An overview of Microsoft Project Applications and tools
• Unstructured vs. Structured Tasks
• Understanding Each Application Niche
• Unified Collaboration
Start a conversation today.
Ask us about integrating your tools & platforms together – with architectural coherence and extensibility. Designing, implementing and supporting Modern Workplace technology is what FSi Strategies specializes in. We've helped hundreds of businesses implement modern security strategies in support of their missions. We invite you to discover how together, we can leverage the intelligent Cloud for the security and privacy needs of your business.