Blog: Microsoft Teams Rooms - Remote & In-house Staff
Unifying Remote & In-office Staff
with Microsoft Teams Rooms
Author: Nicholas Connon
Solutions Architect & Learning Lead, FSi Strategies
As people are coming back to the office, the hybrid work environment has taken center stage for being the new world of work. One of the greatest challenges that organizations continue to face is the debate on how to bridge the gap between remote and in-office staff. When FSi began planning for our new Tysons Corner office in Vienna, VA there were a couple of key considerations beyond the "typical" new office buildout. It was important that we embodied collaboration in the design of our new conference and huddle rooms to bridge the hybrid-work gap seen commonly today. In this article, we will share how we have combined the best of both worlds through our new Microsoft Teams Rooms to deliver enhanced collaboration, inclusion, and engagement.
Microsoft Teams Huddle Rooms
In our smaller and larger Microsoft Teams Rooms, the Front Row view is a feature designed to make meetings more natural between virtual and in-person meeting participants. Within our rooms, we have two displays where attendees and content can be viewed simultaneously. We also have an auto tracking camera that moves and zooms to frame all in-room participants in an optimized view. We have achieved this through a Microsoft certified, Neat Bar, which is a highly capable meeting room device that runs our platform natively with Microsoft Teams functionality on our displays. The Neat Bars are by far the easiest devices we've setup thus far. The package has a Neat Bar and a Neat Pad and assorted mounting solutions to outfit any scenario.
Touch Enabled Controls
We've equipped our Teams Rooms with Neat Pad touch-enabled displays that are supplied by a certified Microsoft Manufacturer. The Neat Pads have a simple and attractive display that can be used to control meetings or show room availability from outside or inside the room. Both the Neat Pad and Teams Panel outside the room run on Power over Ethernet (PoE) and do not require constant monitoring of battery life, like other conference room displays. It's always on and ready with up-to-date information and availability.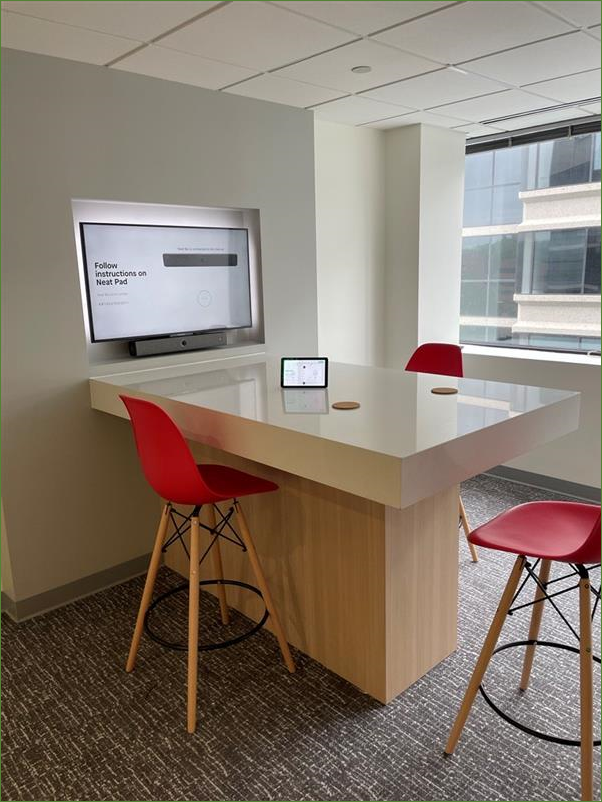 Large Conference Rooms
We knew that we wanted to use a multi camera setup for our large new conference room, as we planned on an 18-inch conference table. We chose to go with the Yealink MVC940, which is their Microsoft Teams Room System for Extra-Large Rooms, knowing that, at minimum we wanted a dual-camera setup. This would allow us to use the Auto Framing feature of the 4K PTZ cameras in the room to have one camera focused on the speaker, while the other has a full view of the entire room. We thought that this would provide a much more holistic viewing experience for those joining Teams Meetings hosted in that room.
FSi has deployed Microsoft Teams Rooms at many of our client sites as well as at our offices over the past 3 years, and we knew that we wanted to have the least amount of cabling and hardware behind the displays as possible. This is to keep the setup as clean and as low maintenance as possible, while giving the ability to expand in the future. The less we had to try to reach behind the screens, the better.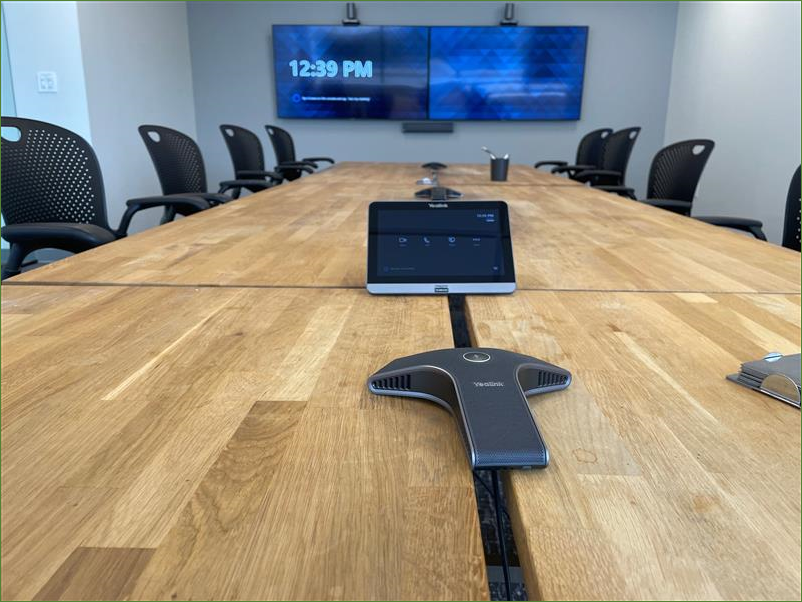 The diagrams for setting up the Yealink MVC940 call for 2 unmanaged and non-networked switches to connect the Audio and Visual devices to the Yealink MCore unit, the small form-factor windows-based computer running the brains of the room system.
Instead of using those, we leveraged VLANs on our switches in the network room which removed the need for the two unmanaged switches behind the displays. This allowed for less clutter behind the displays, while allowing us to easily scale up the number of peripheral devices by directly patching them into the switch. This ended up working out perfectly and fit our large conference room with the ability to expand later. A nice feature about the large room system is how easily we can install additional cameras and seamlessly tie them into our Teams Meetings. We are doing this now by adding content cameras, as well as added microphone and speakers into our setup.
In the hybrid world of work, we realize the need for organizations to embrace flexibility empowering people to collaborate from anywhere. Our Microsoft Teams Rooms bridge the gap between in-person and remote employees, ensuring everyone can be completely engaged.
If you would like to learn more about how Microsoft Teams Rooms could be a part of your Hybrid Work environment, we'd love to connect with you.
Start a conversation today.
Ask us about integrating your tools & platforms together – with architectural coherence and extensibility. Designing, implementing and supporting Modern Workplace technology is what FSi Strategies specializes in. We've helped hundreds of businesses implement modern security strategies in support of their missions. We invite you to discover how together, we can leverage the intelligent Cloud for the security and privacy needs of your business.