Blog: Service Desk Evolution
our evolution, commitment to innovation, and customer experience
FSI Strategies was built 20 years ago on the idea of harnessing the business value of technology. Over this span of time, we've been helping companies leverage the strategic power of technology to succeed and grow for almost two decades. At the core of our ability to fulfill this mission is our focus on innovation. Innovation is so important to us that it's one of our four cultural pillars. Together with Customer-Connected, Learning, and Inclusion, we've created a framework of values that guide us in everything that we do.
A culture of Innovation gives us a growth mindset. This means continuous experimentation and curiosity. The more we innovate the more we can help our clients succeed. In today's rapidly changing world, innovation is critical. It's at the heart of helping our clients thrive.
Innovation has also guided us through our own growth and success. This includes innovation with our Service Desk, allowing us to better serve our customers, and streamlining how they work with us all the while improving the user experience. In this article, we will take a look at how our Service Desk has evolved over the last two decades to better serve our clients.
From our modest beginning 20 years ago, we at FSi Strategies maintained a focus on the user experience and knew early on that it would be foundational to our existence. We feel the single most important thing, in addition to your utmost satisfaction, is to foster an integrated and strategic partnership built on trust. To do this, we developed a Service Desk long before the term was popular, and it paved the way to delivering stellar service and has built strong relationships over time. We're excited to share how it has evolved over the years to serve you.
First to Focus on Client Experience
FSi Strategies was one of the first Managed Service Providers (MSPs) in the Washington, DC area to implement policies and procedures following the Information Technology Infrastructure Library's (ITIL) best practice recommendations in 2009. As a result, FSi Strategies was one of the premiere MSPs in our area to offer a "fixed-fee, unlimited service" model and vendor management, as well as the use of a service desk and coordinators.
Early on, we realized that other MSPs in our sphere were doing well at resolving client issues on a technical level, but that was it. Through ITIL, we've instilled a client-first approach that encompasses two things: providing stellar technical service and cultivating a client experience that builds genuine relationships.
While many may call a Help Desk for assistance with their technical issues, we've coined ours' a Service Desk. We aim to do more than help; we seek to serve. Essentially, this is our concierge, where you will always reach a Service Coordinator, due to our no-voicemail policy. Our Service Coordinators are non-technical team-members who carefully handle all client emails and phone calls to escalate problems based on human curation and situational analysis. We ultimately want you to know that we're managing the process, escalations, and third-party vendor interactions to a high quality through specialized service coordination and a world-class ticketing system.
Because we always go the extra mile, we will follow-up with you and ask if there's anything else we can do and ensure that your original issue has not reoccurred. We're not just focused on fixing the problem but seek to build a positive relationship and experience that's based on trust, understanding, and delivering exceptional service.
First to Commit to Fixed Fee Unlimited Service
We saw an opportunity to create transparency, dependability, and trust by committing to a fixed-fee unlimited service structure. While some managed service providers bill based on the number of hours dedicated to a project or issue, we've decided that a fixed-fee structure takes care of everything in one simple fee and gives you the peace-of-mind to know that you will not be overcharged or have fluctuating invoices from month-to-month.
Monitoring & Improving Workflows
Our workflows are the moving force at FSi Strategies, and it was our commitment early on to set up efficient processes and a dedication to improving them as we scale and grow. When a ticket is created by our Service Desk, we utilize keyword analysis to designate which workflow would be best used in a specific instance. With time, we've had the chance to improve workflows to enhance effectiveness, sparking our growth into present day operations. The evolution of our Service Desk has been pivotal to our continued commitment to going above and beyond for you. Let's take a look at our recent developments.
The Present
Enhancing Client Satisfaction with our New Office Space
When designing our new office space, we were steadfast on providing an integral client experience. First, we focused on staff agility through our work desks. Our work desks allow in-office and hybrid staff to easily come in, dock, and work without having to reconfigure their setups. This allows us to quickly service you from anywhere within our office.
Next, we've implemented Microsoft Teams Rooms along with physical and digital white boards. Collaboration was important to us in the design of our new conference and huddle rooms to unify in-office and remote staff to effectively innovate and implement solutions to benefit you.
Lastly, we've equipped our Service Desk team with presence lights that's integrated with Microsoft Teams, so that when a Service Coordinator docks their machine, the light shows in-office and remote staff, their presence. This was critical as it allows our staff to know when a Service Coordinator is on a call. When the FSi team was working fully-remote during the pandemic, in-office interruptions were not an issue. When returning to the office we found this to be critical.
»  Purple Light means busy
»  Red Flashing means on a call
»  Yellow light means away
»  Green light means available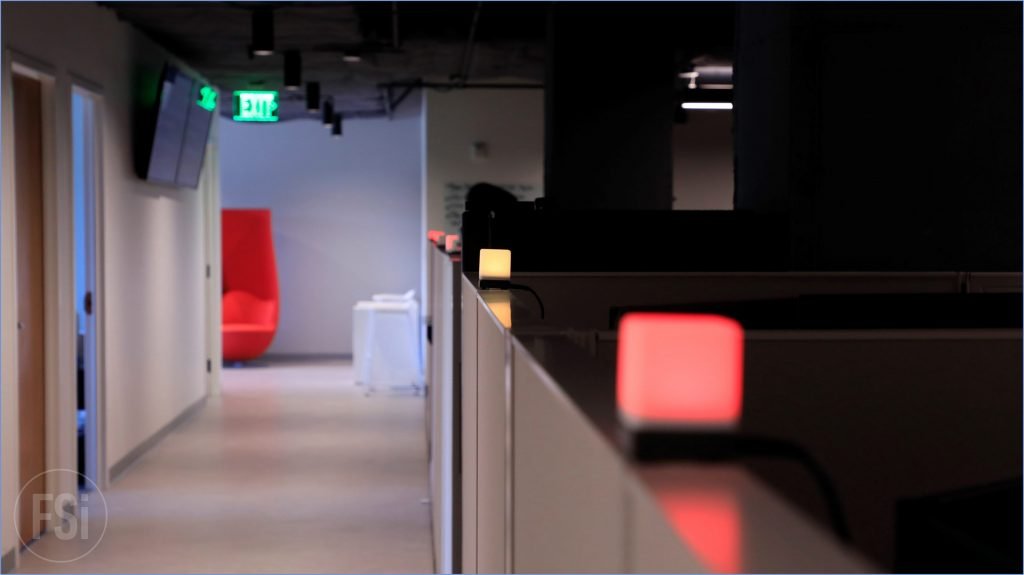 Through the deployment of Microsoft Intune to staff workstations company wide, if anyone comes into the Service Desk department area, the presence light will automatically enact. This includes the configuration of the light colors, so that everyone has the same settings.
Presence lights allows us to always remain client-focused. We seek to dedicate our undivided attention to you to assist you in any way possible.
Leveraging Artificial Intelligence
The world of technology continues to evolve, and we are currently leveraging artificial intelligence (AI) and machine learning through Sentiment Analysis to sense how you may be feeling as you interact with us. We want to ensure that your relationship with us is one that is enduring and beneficial to you; through this technology we are better able to gauge your sentiments and make informed decisions on how to be of service.
Continued Commitment to Fine-tuning Workflows
As mentioned previously, we thrive on workflows and have dedicated time and resources to ensure that they are efficient, productive, beneficial, and deliver unwavering value to you. For us, maintaining top-of-the-line performance requires more than a one-time improvement. We routinely conduct crucial workflow and process audits.
FSi Get Help Outlook Application
We have developed the FSi Get Help custom application for Microsoft Outlook. It allows you to submit and review tickets, access training, join virtual support meetings as well as access important links that assist and educate clients directly from your Microsoft Outlook program. We're dedicated to adding benefits and convenience to our clients' everyday lives.
Virtual Assistant Chatbot
Through application development, we have established a virtual assistant chatbot that is available via our website to assist you with any questions you may have. Utilizing AI and machine learning, the virtual assistant's knowledge base grows over time and learns how to best serve you in different scenarios. Our virtual assistant also answers pertinent questions and connects you with our dedicated Service Desk and solutions team. We have a forward-thinking approach as to where the future of technology is headed, and we're excited to share our latest developments with you.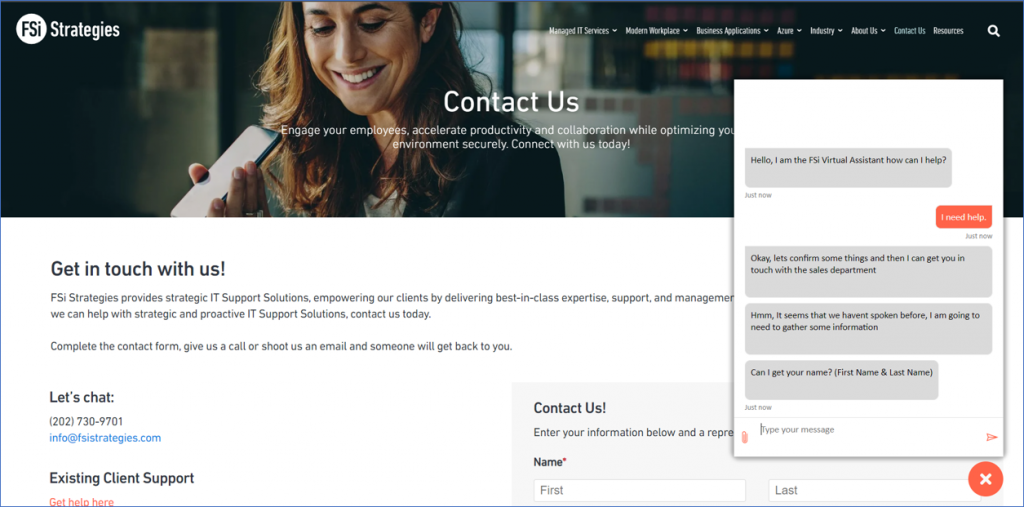 FSi Learning Hub
Our Training & Adoption platform allows clients to learn about new technology while experiencing on-demand interactive training that directly pertains to their current role within their organization. You can also use "search" to find answers to common questions. By providing intuitive self-service support and connecting users to one another, it fosters ongoing engagement and alleviates the pressure on new employees as they lean into their roles at their organizations. By providing intuitive self-service support and connecting users to one another, it fosters ongoing engagement and alleviates the pressure on new employees as they lean into their roles at their organizations.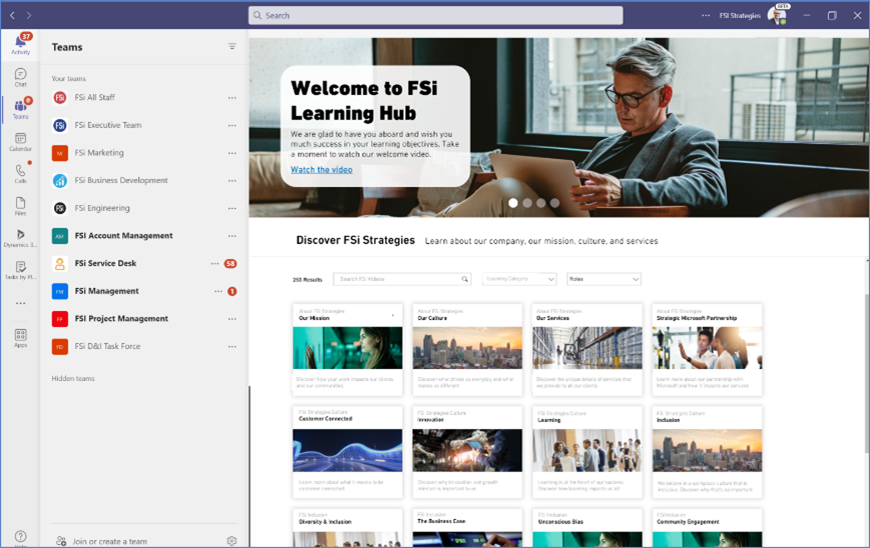 Continued Focus on Client Experience
Due to our continued efforts and a focus on client experience, we maintain key performance metrics that continue to drive us forward.
99%
Renewal Rate
Our clients renew their contracts after the first year.
96%
Customer Satisfaction
From clients surveyed, they are happy with our work.
6+
Year Average
Clients choose FSi. Better yet, they stay with FSi.
You are our top priority. We do not use automated messages, but rather involve our Service Coordinators in escalating and resolving issues. Contacting us means getting dedicated support professional, every time due to our no-voicemail policy.
The Future
We are always innovating to better serve you. Here's a look at what we have coming down the pipeline:
Expanding the FSi Get Help Outlook Application
Our current FSi Get Help Outlook add-in has been essential to providing convenience to you when you are in a moment of need or sheer curiosity. We are actively working on increasing this level of convenience by incorporating our FSi Get Help add-in to all Office 365 applications including Microsoft Word, Excel, PowerPoint and more. This will allow you to submit tickets and upload screenshots from any Microsoft ecosystem application, thus making your days easier and giving you more peace of mind.
Android & iPhone Mobile Application
We've noticed that more and more people are working from their phones in addition to their laptop or desktop computers. We are developing a mobile application that allows you to request assistance, submit tickets and receive notifications on key ticket updates. With this application, we're only a few taps away from providing additional service and value to you.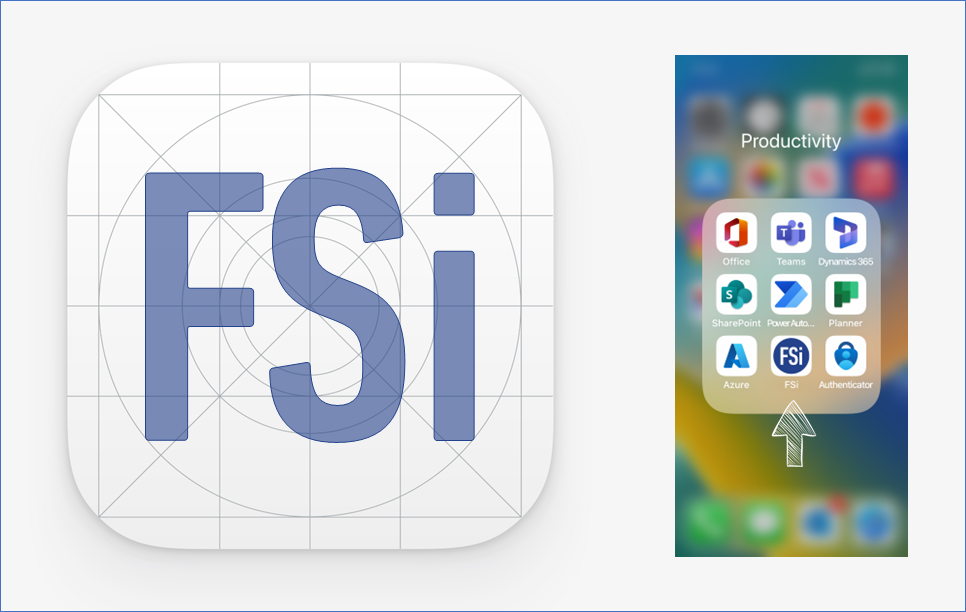 Leveraging More AI & Sentiment Analysis
We know that AI is growing and has many facets that enable us to provide unwavering dedication to you. We are developing a way to instantly triage tickets using AI to automatically route incidents to the correct Service Coordinator and technical team for resolution through keyword identification. This technology will also recommend steps to resolve incidents so that we deliver quick and seamless resolutions.
Diversifying the Service Desk Staff
In every organization, culture is central to success. At FSi Strategies, we strive to ensure that employees and job applicants are given equal opportunity and that our organization is representative of society as a whole. We have established a D&I Taskforce help advance the organization's goals to increase outlining a set of strategic objectives for successfully building and supporting initiatives that promote and advance diversity and inclusion across the organization. We are working to hire more Service Coordinators from diverse backgrounds so that we can better represent whom we serve and the greater community.
Investing in Application Development
Modern workplaces require companies to continually improve their efficiency, cost-savings, flexibility, and productivity. Businesses rely on business-critical applications to perform their core tasks. We've learned and adapted a modern application development approach so that we can innovate rapidly by using technology that's built-for-the-cloud, to modernize our client's legacy business applications.
There are many opportunities available through application development that we're excited about. Our goal is to innovate, and spearhead state-of-the-art integrations that will lead to increased productivity, security, streamlined development lifecycles, increased application interoperability and more robust analytics.
Since 2003, our service desk has evolved through continual innovation, as a commitment to serve you. We've integrated technology with a hospitality mind-set to provide a helping hand with a dedication to walking with you every step of the way to foster a strategic partnership.
Start a conversation today.
FSi Strategies is a user-experience focused Managed Service Provider and recognized Gold Microsoft Partner with over 20 years of experience. As Microsoft Cloud experts, we provide strategic enterprise-class Modern Workplace IT solutions that engage your employees, accelerate productivity and collaboration, and optimize your environment securely. If you are interested in learning more about our service desk features or want to discover how we can help your organization, connect with us today.