Blog: Microsoft Teams Rooms (future of hybrid)
the future of hybrid work
New Collaborative Experiences
The modern workplace is constantly shifting and changing. Between 2019 and 2021, the number of remote workers more than tripled, according to the US Census. And with those shifts in how we work, traditional collaboration can't keep up. Programs like Zoom, Slack, and Microsoft Teams are replacing the old ways of doing things, but how can they compensate for the engagement of a conference room meeting?
Microsoft Teams Rooms are the answer to that question.
Teams Rooms open a new world of inclusion and collaboration in the hybrid work environment, allowing remote workers to easily participate in meetings in meaningful and holistic ways.
Here at FSi Strategies we have a hybrid workforce like many modern companies, and Microsoft Teams Rooms are a big part of how we bridge the gap between remote and in-office employees in our organization. Teams Rooms allow everyone to be seen, heard, and fully present in any meeting regardless of where they are located.
FSi began utilizing Teams Rooms when we moved to our new office in Tysons Corner. Our setups are composed of devices from our partners Neat and Yealink and are optimized to enable collaboration, participation, and teamwork between our teams. Here are our Teams Rooms and how we utilize them:
Huddle Rooms
At our office in Tysons Corner, we currently employ two huddle rooms with Microsoft Teams Rooms. The rooms use a simple setup optimized for collaboration. Within both rooms, we have two displays where attendees and content can be viewed simultaneously. Both rooms feature a Neat Bar, which provides excellent sound quality and an auto-tracking camera that moves and zooms to frame all participants in the room.
Our huddle rooms at FSi also utilize Neat Pads, touch-enabled Microsoft Teams Panels produced by Neat, a certified Microsoft Manufacturer. The Neat Pads feature a simple and intuitive interactive display that can be used to control meetings, show room availability, and reserve the room. For reserving rooms from the outside, we utilize Crestron Scheduling Touch Screen panels. Unlike other conference room displays, the Teams Panels do not require constant monitoring because they are run on Power over Ethernet (PoE) rather than battery power.
The Neat Pads are integrated with the displays and Neat Bar in the huddle rooms, allowing participants to have a connected experience with those joining remotely.

Conference Room
Our conference room takes the concept of a traditional conference room and develops it into a space for hybrid collaboration. We have the traditional conference table with chairs for in office meetings, but we have added a dual-display and the Yealink MVC940, a Microsoft Teams Room System for extra-large rooms. The system provides a dual-camera setup with two 4K PTZ cameras fit with auto framing capabilities. This provides us with the ability to have one camera solely focused on the speaker while the other has a full range view of the room.
The system is powered by the Yealink MCore unit, a small form-factor Windows-based computer that runs the Teams Room system. Traditionally, the MVC940 requires two unmanaged and non-networked switches to connect the Audio and Visual devices to the Yealink MCore unit, the small form-factor windows-based computer running the brains of the room system. Combined with an array of Yealink speakers and microphones for quality audio, the MTZ940 system provides a cohesive meeting experience for those in the office and those joining remotely.
The latest editions to our modernized conference room are two Teams Boards, the Yealink MeetingBoard 65 and the Neat Board. Both provide a 65" touchscreen display with an easy to use format. Teams Boards are fully integrated with Microsoft Teams and provide a high-performance platform for meetings and whiteboard collaboration.

Teams Boards provide an easy to integrate and cost-effective solution for a truly modern collaboration space. They can serve a number of purposes in a modern workspace. They provide a modern alternative to a television that can easily be retrofitted into your existing collaborative spaces. They offer a new way of collaborating with their whiteboarding feature. They also allow for mobility. At FSi, our Teams Boards are on wheels so that they can easily be moved from room to room as needed.
Features:
•  Digital whiteboarding is one of the greatest functionalities of the Teams Boards, enhancing the whiteboard experience already available through Teams to provide real-time collaboration across on a shared virtual canvas.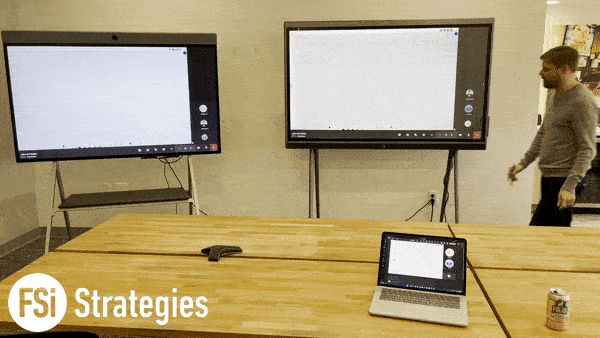 •  Teams Boards are also capable of intelligent content capturing. If you prefer a physical whiteboard over the digital format, a Teams Board can utilize a content camera and AI processing to enhance and digitally share physical objects, such as whiteboards, books, and other written materials.
•  Teams Rooms can be easily integrated with a Microsoft calendar, allowing you to reserve a room directly from Teams or Outlook.
•  Teams Rooms are enabled with proximity joining, allowing users to use a personal device to detect nearby Teams Rooms and easily join meetings. The feature even mutes the device's audio automatically to prevent feedback.
•  The Teams mobile app enables users to control a Teams Room from their phone.
•  Teams Rooms are compatible with Windows and Android operating systems, and both are utilized at FSi Strategies. Our huddle rooms are powered by Android while our conference room uses a Windows base.
With an expanding list of features and devices, Microsoft Teams Rooms are the perfect solution for upgrading your traditional collaboration spaces to meet the needs of the modern workplace. FSi has enabled many of our clients to deploy Microsoft Teams Rooms, and we would love to show you how Teams Rooms could be a part of your hybrid work environment. Connect with us today to get started!
Start a conversation today.
Ask us about integrating your tools & platforms together – with architectural coherence and extensibility. Designing, implementing and supporting Modern Workplace technology is what FSi Strategies specializes in. We've helped hundreds of businesses implement modern security strategies in support of their missions. We invite you to discover how together, we can leverage the intelligent Cloud for the security and privacy needs of your business.