Blog: Microsoft Planner
manage your tasks & projects
Author: Trystan C. Bennett
Solutions Architect, FSi Strategies
A Day in the Life, part 2!
As you may recall from my blog post, Executive Time Management with Microsoft To Do, I'm a busy guy. In addition to my position at FSi as a Solutions Architect, I'm an organist and choir director for a church and am working towards my MBA. I also maintain a small recital schedule playing with various groups as a harpsichordist and organist and occasionally volunteer to build and maintain websites for causes I support. As I write this, I'm also in the middle of purchasing my first house.
Microsoft ToDo is absolutely still my go-to for prioritizing and organizing my shorter-term and simple tasks, but for longer-term tasks or more complex projects, such as managing the Solutions Architecture lifecycle schedule, I use Microsoft Planner. As a busy guy with tight schedule, modern work tools like ToDo and Planner help me stay organized and productive while collaborating with coworkers in the hybrid work environment.
What is Microsoft Planner?
Microsoft describes Planner as an "intuitive, collaborative task management tool that enables people to plan, manage, and complete task-based initiatives." It integrates with several other Microsoft products in the cloud ecosystem, as described below, and is available with the full feature set to nearly all Business, Education, and Enterprise plans (including both Office 365 and Microsoft 365).
First introduced in 2016, its core is a Kanban board using "task cards." What's a Kanban board, you ask? It came from the Japanese word for signboard and was developed by Taiichi Ohno at the Toyota Motor Corporation to improve manufacturing efficiency. It is a method of visually representing your project with task cards organized into 'buckets,' either by status (the traditional way of using it) or by functional or milestone group (which is how most people I know use it). Microsoft has a fantastic article on Kanban that can be found here if you want to read more.
Creating a Plan
I have created a new plan to track my current house purchase to demonstrate Planner. Let's walk through how to create a new Plan: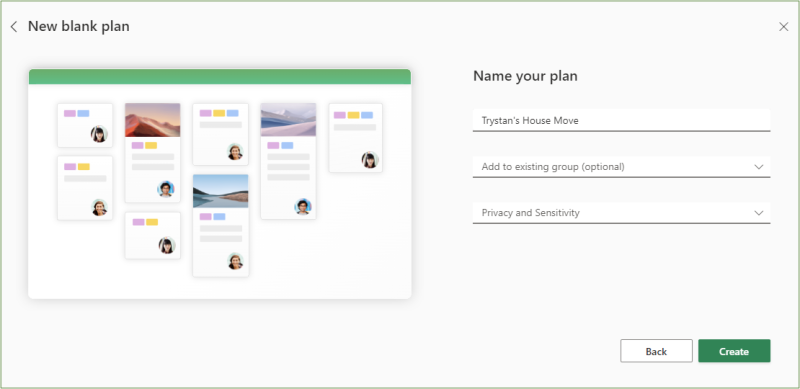 The first thing you will notice is that it can link to an Office 365 Group, and if not linked, it will create a new Group. Group membership controls access and visibility to the Planner plan. If your security and compliance settings allow it, you can even share individual Planners with external users. External (Guest) users will have read-only access by default, but assigning them a task will automatically give them full access, as this helpful warning instructs: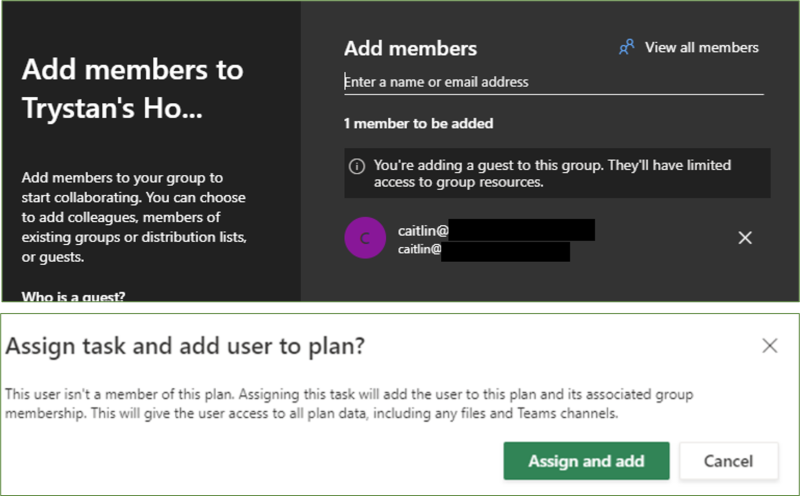 Here's our sample plan's Kanban board: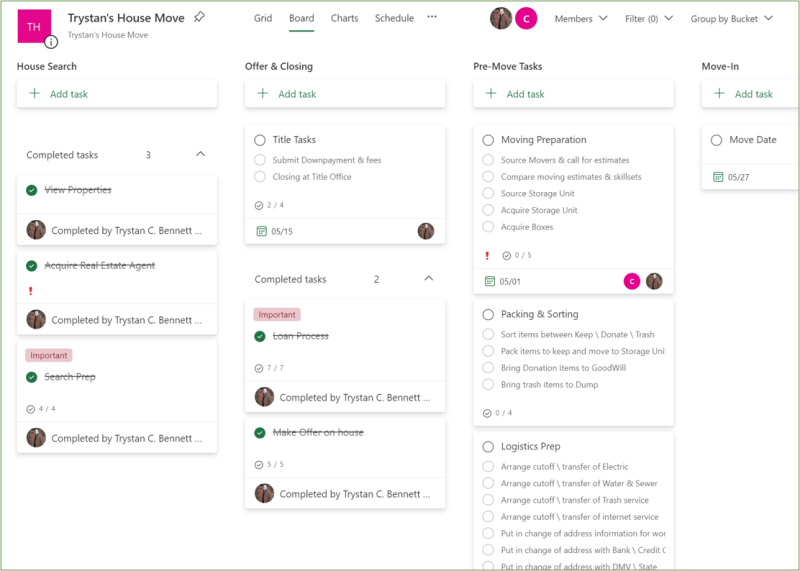 As you can see, completed tasks get lined through and can be hidden from the board, similar to completed tasks in ToDo. The board also offers a Chart view to illustrate project metrics: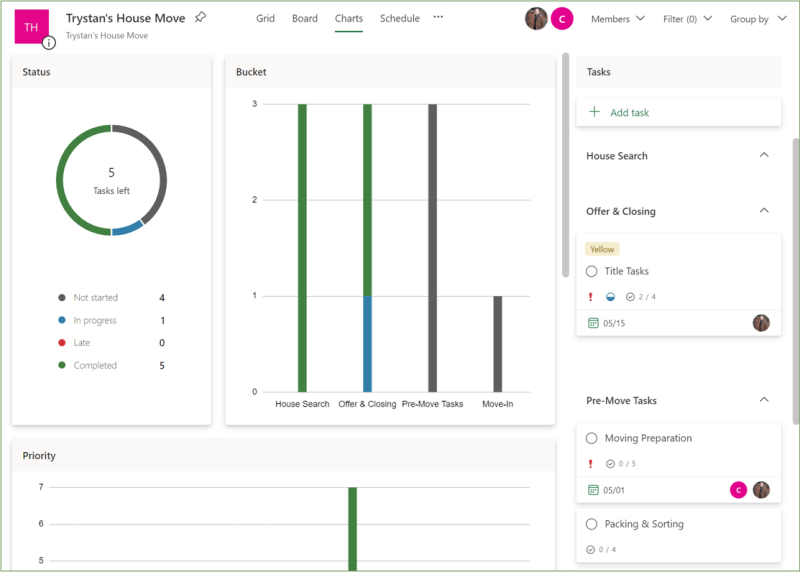 You may also view your plan in a Grid view and a Calendar (Schedule) view: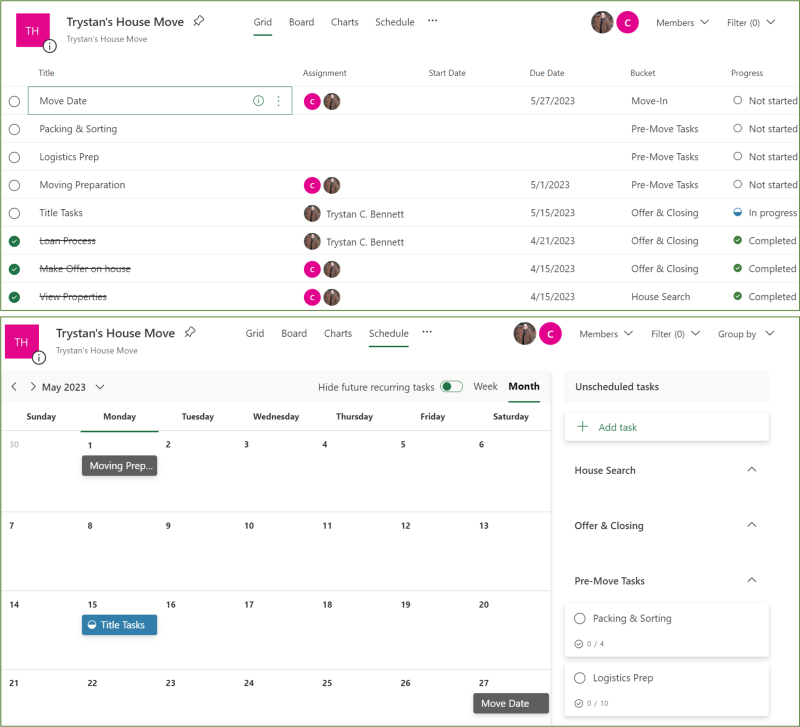 Task Cards
Individual cards have several features that can be found by double-clicking on them to drill down. These cards can be individually populated with notes, comments, dates, priority, repeated scheduling, statuses, checklists, labels, and file attachments. Note that only one of these items can be displayed on the board view. Labels themselves are color-coded and can be customized. In this example, I created a label called "important," although that's unnecessary since "Important" is also an available priority status.
Fitting with the original Kanban philosophy, task cards can quickly move between different 'buckets' with simple drag-and-drop.
Similar to ToDo, you can also assign individual tasks, which will notify the user and give them full access to the Planner.
Note, that completing tasks will contribute to the overall progress of the task's bucket automatically. Any task with a due date and assignment will also automatically appear in the assigned user's Outlook calendar.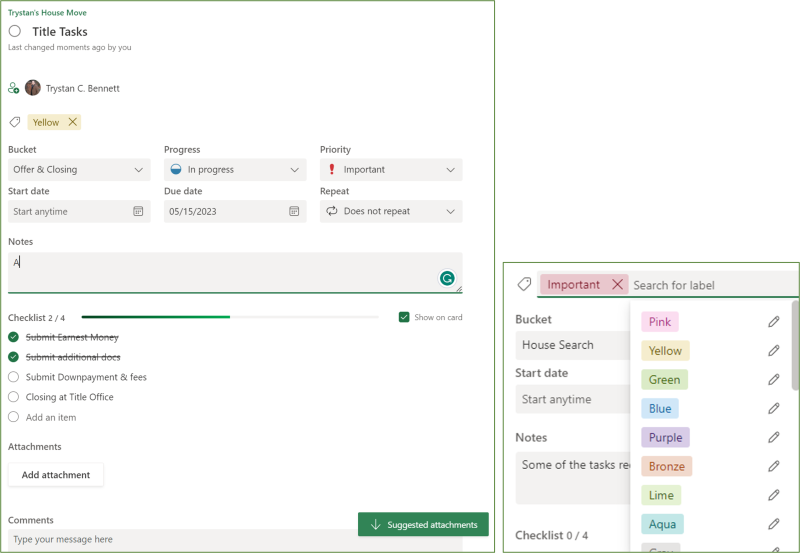 The Planner Hub
You can access all Planners you have access to via the Planner Hub, found at tasks.office.com.

You may also pin specific Planners to the left-hand sidebar for quick access, as well as view an aggregate list of all tasks assigned to you, grouped by statuses, throughout all Planners in your environment by using "assigned to me":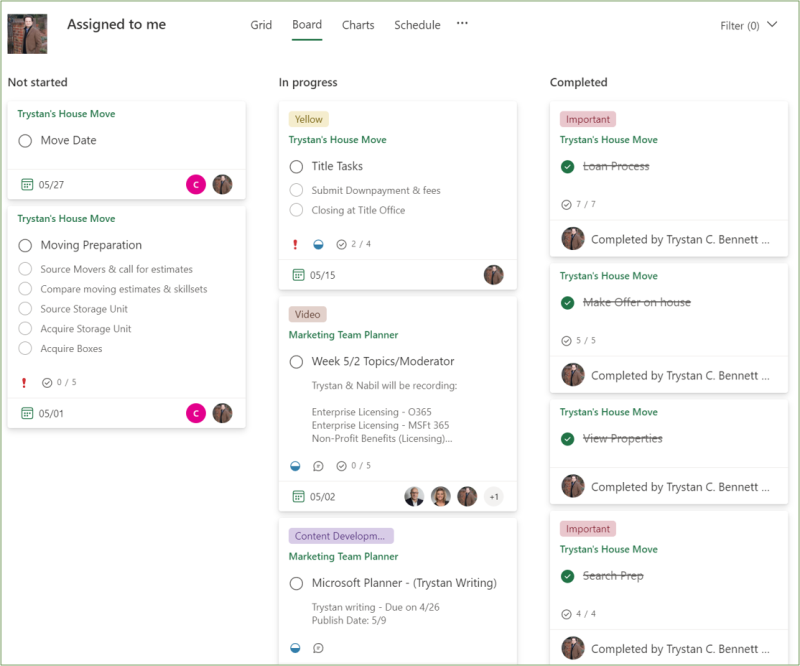 Just like individual Planners, the Planner Hub allows you to view your aggregate tasks in a grid view, chart view, and schedule view: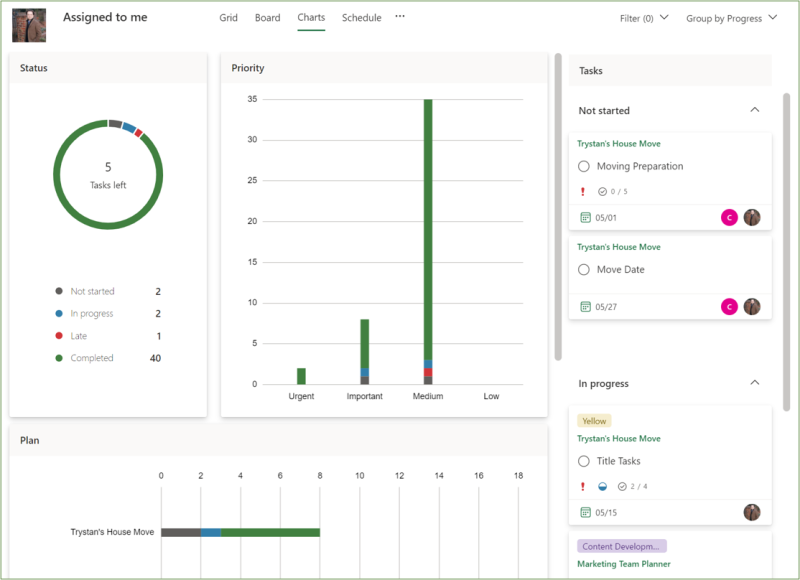 Planner Integrations
Planner integrates with several different Microsoft Products, notably Microsoft Teams, Outlook, and ToDo.
In Microsoft Teams & ToDo
In order to increase collaboration, Planner is fully integrated in Microsoft Teams as one of the many tools available to help accelerate productivity in the hybrid work environment. In Teams, Planner is under the "Tasks by Planner" icon on the sidebar. One significant limitation is that your private Planners (such as the house Move one I created above) will not appear in Teams. Public Planners or planners tied or shared in a Teams Channel will show up under 'Shared Plans' however, organized by their associated Team Channel (note that ToDo can also be found in this section of Teams: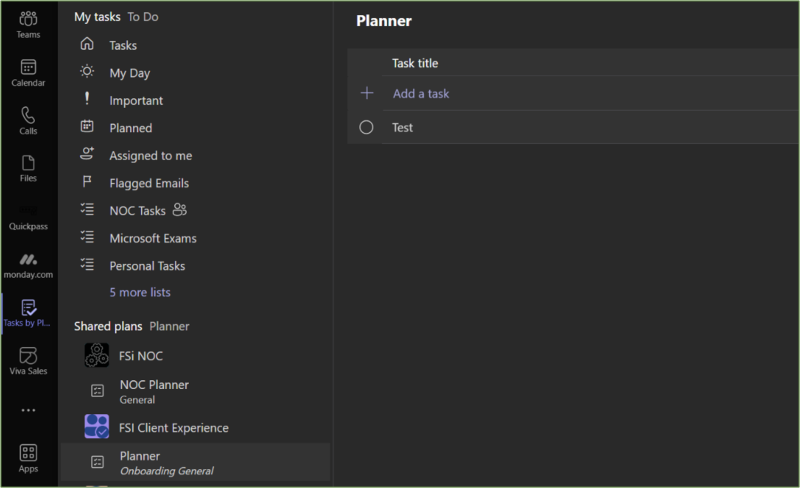 Any task you're assigned to work on, even if in a private Planner, will show up under the 'assigned to me' section.

Note, that this is actually part of ToDo and will also show up in ToDo, where it can be added to "My Day" as with any other task: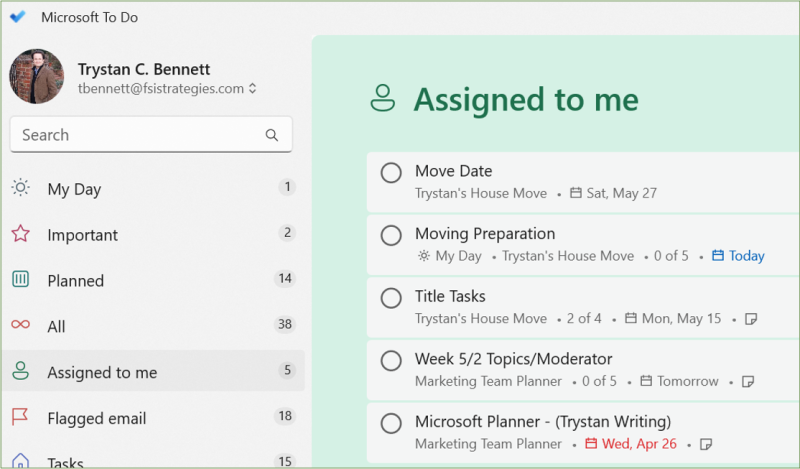 In Outlook
Outlook is another one of the many tools that integrates with Planner. Planner will not automatically add plans to Outlook, but it is possible to integrate them by clicking the three dots at the top of the plan's menu bar.
From here, you will be prompted to either keep the plan private (which will not allow it to move to Outlook) or publish it publicly as an iCalendar link, which will be generated for you:
As you can see on the expanded menu, many other features are included in your Planner Plan, including an automatically generated SharePoint Site, a File repository, and a OneNote notebook. Some of these items are due to Planner creating an Office 365 Group at creation. Note 'Conversation,' which will automatically direct you to your Outlook search pane and show you every email related to this specific Planner Plan: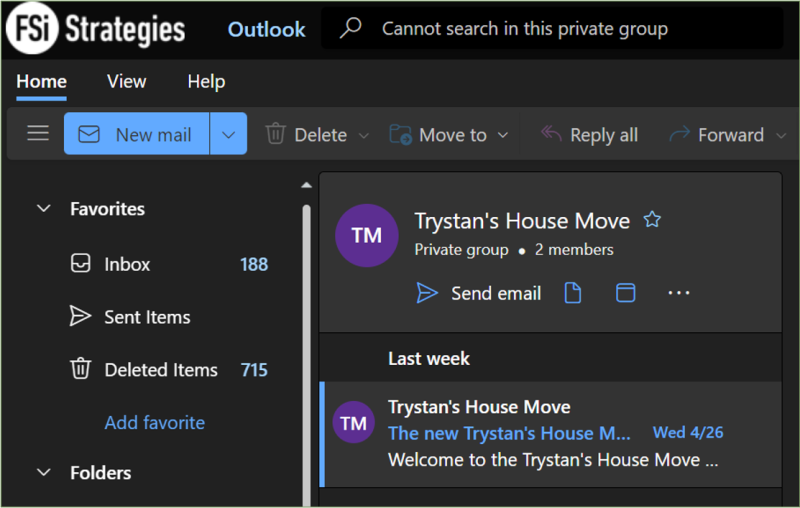 A visual way to organize teamwork
While not necessarily a replacement for a full-blown Project Management App, like Microsoft Project, Planner fantastically fills the gap between simple task lists (ToDo) and more complex Project Management Software. While there may be a bit of a learning curve associated with setting up a new Plan, it is pretty intuitive to use owing to its drag-and-drop web interface and seamless integration with Microsoft Teams and Microsoft ToDo. Contact us today to learn more about how modern work solutions can help you optimize your productivity & collaboration.
Start a conversation today.
Ask us about integrating your tools & platforms together – with architectural coherence and extensibility. Designing, implementing and supporting Modern Workplace technology is what FSi Strategies specializes in. We've helped hundreds of businesses implement modern security strategies in support of their missions. We invite you to discover how together, we can leverage the intelligent Cloud for the security and privacy needs of your business.