FSi - Deploying Windows 11
unlock the power of Azure AD & Intune
Author: Hasmik Najaryan
Vendor Relationship Manager, FSi Strategies
It is that bittersweet time again—another Windows update has been released. Microsoft has updated from Windows 10, an operating system favored by many of us for so many years, to Windows 11. Upgrades like these are always exciting, but they're also uncertain. And for businesses and organizations, it means beginning the process of end user updates.
Earlier this year, Microsoft announced that they will end support for Windows 10 on October 14, 2025. While they will continue to maintain and patch it until 2025, there will be no new features released for Windows 10 after 2023.
Windows 11 does not disappoint. It not only tops all that Windows 10 offers while maintaining much of the same user interface, but it also expands on features that enhance productivity and security to better support the flexibility and agility of the hybrid work environment and further advance the virtual collaboration ecosystem.
As security concerns grow in hybrid and remote work scenarios, Microsoft has prioritized security in Windows 11. By adopting a security-by-design approach, Windows 11 incorporates essential security requirements at its core. For example, devices eligible for the Windows 11 upgrade must have TPM 2.0, and BitLocker encryption will be enabled by default on all Windows 11 devices.
Deriving from the fundamental requirements of Windows 11 and to ensure a successful upgrade, it is crucial to verify if the device being upgraded has TPM 2.0. TPM 2.0 provides a robust hardware barrier to protect encryption keys, user credentials, and sensitive data, enhancing overall security. If devices lack the TPM 2.0 chip, it may be wise to allocate funds for replacing them. The absence of the chip could indicate aging hardware, and it is generally advisable to replace devices that are four years or older.
One of the notable new feature enhancements in Windows 11 is the unified interface, which combines the view of files in OneDrive and Windows Explorer. This integration creates a seamless platform for file navigation, offering a consistent and familiar experience across both environments.
Additionally, there will be a need for a platform to manage the encryption keys with necessary infrastructure and control to ensure the security and integrity of data on devices.
Large-scale upgrades like these can indeed be costly, challenging, and disruptive for both end-users and IT teams, especially without a centralized deployment management solution. Without a centralized environment like Intune and Azure AD, upgrading endpoints to Windows 11 becomes a manual and time-consuming process. Each machine would require individual attention, resulting in a significant expense on the IT side. On average, you would need approximately 3 hours per machine, not accounting for the additional time wasted by end users or the costs associated with shipping laptops back and forth. This inefficient approach drains valuable time and resources.
Implementing Azure AD and Intune puts you in a favorable position to efficiently handle the change and stay ahead of the game. If you have already managed to implement Azure AD and Intune, you are in a better position to manage this change effectively. If you're contemplating adopting Azure AD and Intune, now is the opportune moment. This could be one of those rare cases where you can kill two birds with one stone. Well, is it wishful thinking or does this technology really make it a reality for us all? Let's see how this can help!
There are two scenarios that we could face when we go through this process.
Scenario 1: Upgrade the OS on the existing device provided it does have the required hardware components.
By leveraging the power of Autopilot in tandem with Intune, you gain the ability to seamlessly deploy Windows 11 remotely while enforcing policies, regardless of the device's geographical location. This dynamic combination allows you to streamline the deployment process across multiple machines simultaneously, eliminating the necessity of working on individual computers and negating the need for shipping devices back and forth. Consequently, you can optimize efficiency, minimize downtime, and maximize cost savings.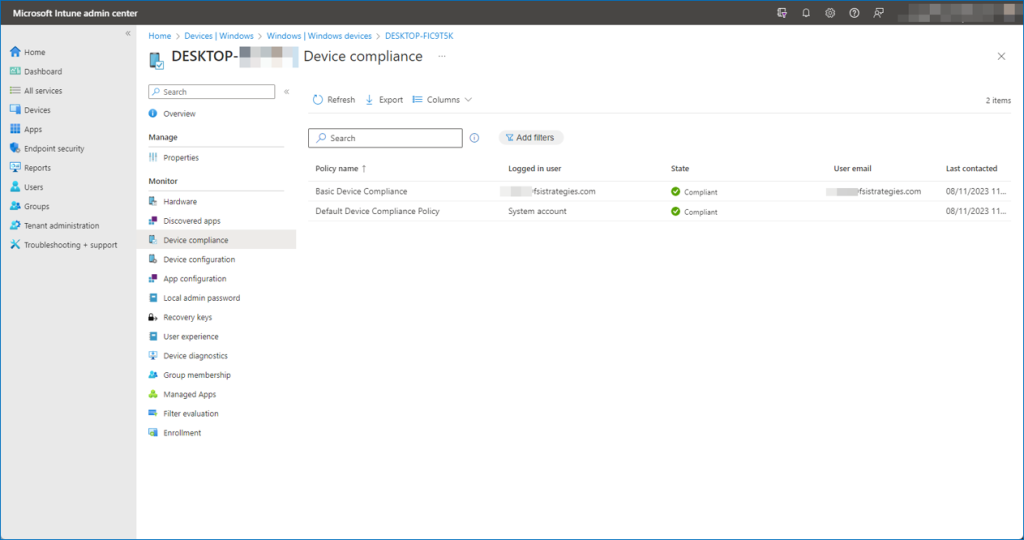 Scenario 2: Replace the device as it is aging and/or does not have the required hardware components.
By harnessing the capabilities of Autopilot, Intune, and Azure AD, you can unlock the benefits of zero-touch deployment when replacing the machines. With this streamlined process, the new devices can be shipped directly to the end user when purchased, who simply needs to unbox the device, connect to the internet, and sign in using the Azure AD credentials. From that point forward, Autopilot takes charge of the device enrollment, configuration, and application installations, ensuring a seamless and hassle-free setup experience. Once again, enabling you to optimize efficiency, minimize downtime, and maximize cost savings, all while providing a user-friendly and efficient deployment process.
What's even more rewarding is that with this approach, you can efficiently manage the adoption of Windows 11 as well as other software updates and new software/hardware deployments in the future.
Furthermore, leveraging Azure AD and Intune allows you to strengthen your security posture by effectively managing encryption keys. It also enables various other valuable features, one of them being the Single Sign-On, empowering users to access multiple applications and services with a single set of credentials. This eliminates the hassle of multiple logins, saves time, and minimizes the risk of password-related security issues.
Saying goodbye to Windows 10 might feel disruptive, but upgrading to Windows 11 is more than just an opportunity to leverage the productivity, accessibility, and security benefits of the new operating system. It's also an opportunity to invest in building an environment that enables better overall management of deployments, boosts security, protects company assets and data, and enhances user productivity and collaboration.
Contact us today to learn more about how you can utilize Azure AD and Intune to deploy Windows 11 in your workplace.
Start a conversation today.
Ask us about integrating your tools & platforms together – with architectural coherence and extensibility. Designing, implementing and supporting Modern Workplace technology is what FSi Strategies specializes in. We've helped hundreds of businesses implement modern security strategies in support of their missions. We invite you to discover how together, we can leverage the intelligent Cloud for the security and privacy needs of your business.