FSi - Connecting in the Modern Workplace
Connecting in the modern workplace
with Microsoft Teams Phones & Teams Rooms
Author: Hasmik Najaryan
Vendor Relationship Manager, FSi Strategies
Efficient communication and collaboration are fundamental requirements for fostering a productive and successful workplace. With over 300 million users globally, Microsoft Teams is the world's leading platform for workplace communication and collaboration, and with the addition of Teams Phones, Teams Rooms, and Teams Devices, it offers superior integration capabilities with other tools. As a centralized hub for communicating and collaborating, Microsoft Teams can accommodate employees who are constantly on the move and those in the office, ensuring they can seamlessly keep pace with the rapid flow of work. It makes it possible to seamlessly transition between voice calls, video conferences, instant messaging, and file sharing within a single application.
Teams Phones
The advanced phone features of Microsoft Teams surpass the limitations of traditional and outdated voice solutions, driving businesses into a new era of seamless communication and collaboration that transcends device and location.
One of the most innovative features of Teams Phone is its unparalleled availability across locations and geographies. Unlike traditional office phone solutions that require complex configuration changes or service transitions as your location changes, Teams Phone service is available no matter where you are as an individual employee or as an organization. Gone are the days of experiencing downtime and grappling with administrative burdens associated with service transitions during stressful office moves, office closures or location changes. Teams Phone seamlessly accompanies you wherever you go and allows you to retain your existing phone number with absolute ease and zero downtime.
With Teams Phones, there's no more juggling with old-fashioned call forwarding or sifting through voicemails after long travels. Whether you're on the go or at your desk, Teams Phone provides quick and easy access to traditional voice features and more. You no longer need multiple devices for business and personal communications. Teams Phone is available on any device, including iPhone, Android, iPad, and on your computer. The Teams mobile app offers robust remote access capabilities, keeping your business and personal communication separate and secure on the same device whether you're in the office, on the move, or working remotely. It also displays indicators of presence and availability, allowing you to see which of your teammates are busy, available, or out of office for improved communication efficiency, coordination, and reduced interruptions.
Teams Phones offer flexible scaling, allowing easy addition or removal of numbers as needed. Unlike traditional phone systems, you only pay for licenses assigned to active accounts, eliminating costs for unused direct dial numbers. This streamlines number management, reduces expenses, and minimizes administrative oversight which in turn results in significant cost savings for phone services and simplifies workflows.
Teams Meeting Rooms
For many of us, traditional conference room designs have been a familiar aspect of our work environment, but, in recent years, they haven't exactly met the challenges of modern work. These solutions often incurred high costs and demanded complex configurations, and now, with over 40% of workers working remotely or in a hybrid setting, traditional collaborative spaces are of little use. In the era of modern work, traditional conference rooms and collaborative spaces need to evolve beyond physical boundaries and limited functionality. It's now imperative to reimagine these spaces and unlock the potential of an empowered workforce, where seamless collaboration is a priority, and productivity soars to new heights, embracing the future of work with smart meeting spaces that redefine the way we connect and collaborate.
Microsoft Teams Meeting Rooms expand and reshape traditional collaborative rooms by incorporating a simple yet transformative design that largely enhances the way we collaborate and blurs the lines between in-person and remote work. It expands the capabilities of virtual meetings and offers promising alternatives with innovative setups that prioritize user-friendly design, integration with various applications, seamless connectivity, and dynamic collaboration tools.
Teams Meeting Rooms offer an unprecedented level of integration with not only Microsoft native applications but also third-party applications such as Zoom, Cisco Webex ensuring there are no hurdles with establishing connectivity with other conferencing solutions. Intuitive Meeting Scheduling allows users to schedule and manage meetings effortlessly either using Microsoft Outlook or Teams application that sync seamlessly. You can also use your Teams application on your cell phone to book rooms and arrange meetings on the go, making it easy to reserve your meeting room.
Crystal-clear audio and high-definition video capabilities ensure that every participant's voice and expressions are conveyed accurately. This feature eliminates communication barriers, promoting active engagement. Inclusive video layouts foster a deeper connection between in-person and virtual participants that allow you to maximize screen and see both people, content, and chat simultaneously. It also facilitates real-time content sharing, enabling participants to present slides, documents, and multimedia.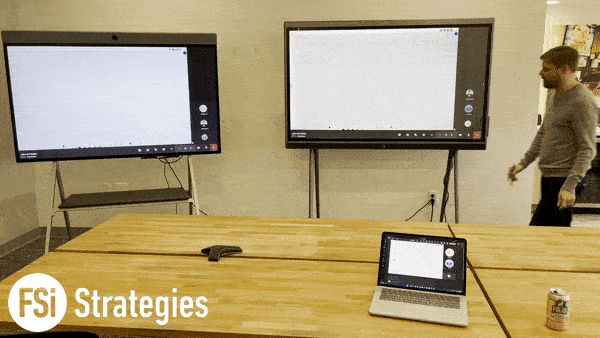 Collaboration features such as co-authoring and annotation empower attendees to work together on shared materials, enhancing creativity and problem-solving in real time. Inclusive communication is made possible with live captions and real-time translations. Teams Meeting Rooms support multiple languages with live translation, breaking language barriers and promoting a more inclusive and accessible meeting environment. And with the introduction of Microsoft Copilot, Teams Meeting Rooms are set to get new AI-enhanced features. With the help of Copilot, Teams meeting rooms will help keep participants up-to-speed, organizes key points, and summarizes actions seamlessly, without interrupting discussions. Copilot serves as a powerful tool for tasks like creating agendas from call history, identifying follow-up contacts, scheduling check-ins, and optimizing meeting efficiency.
Teams Meeting Rooms streamline operations, reduce costs, and increase overall productivity. Advanced meeting analytics and insights empower teams to optimize collaborative efforts, making the most of valuable resources. The stress and frustration associated with traditional conference rooms can be replaced with an inspiring environment that fosters creativity, engagement, and meaningful collaboration.
At FSi Strategies, we specialize in helping companies and organizations thrive in the modern workplace by leveraging the power of Microsoft. Contact us today to learn more about how Teams Phones and Teams Meeting Rooms can help you take your workplace to the next level.
Start a conversation today.
Ask us about integrating your tools & platforms together – with architectural coherence and extensibility. Designing, implementing and supporting Modern Workplace technology is what FSi Strategies specializes in. We've helped hundreds of businesses implement modern security strategies in support of their missions. We invite you to discover how together, we can leverage the intelligent Cloud for the security and privacy needs of your business.