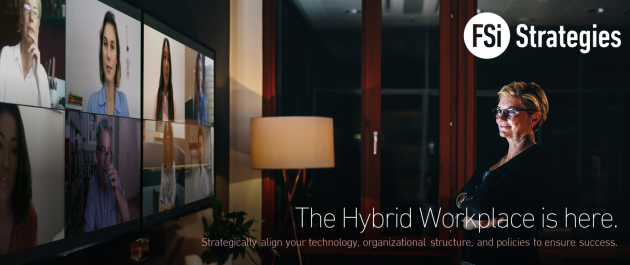 Watch now
Conquer the six critical components to your hybrid workplace strategy.
We have transitioned to a hybrid workplace model much more rapidly than many would have believed possible just a couple of years ago. Employees are routinely working remotely, in the office, or a combination of both. Staff, partners, and customers have quickly come to expect much greater flexibility, both in terms of where and when work gets done. Moving to a modern hybrid workplace is not a simple task. Now is the time to strategically approach your hybrid workplace.
Watch FSi expert, Andy Nelson share practical guidance on how to strategically align your technology, organizational structure, and policies to thrive in the work-from-anywhere world.
This free webinar provides education on these six components of your hybrid workplace strategy.
– Identifying your business's hybrid workplace strategy.
– Providing a clear framework based on policies for your teams.
– Establishing a work from anywhere workplace culture.
– Ensuring that everyone has the tools they need to succeed.
– Bridge your hybrid workforce through effectively integrating technologies.
– Maximize productivity through policy and technology training.
For more information about approaching your hybrid strategy, download our eBook.
Banner Feature: Hybrid Workplace
The Hybrid Workplace is here.
Read all about setting up your technology to thrive in the work-from-anywhere world, in our eBook.
Talk to us today.
Find out more about how FSi Strategies can help you ensure your IT strategy sets your organization up to thrive in the hybrid world.