Blog: Microsoft To Do
Effective Time Management
Blog: Microsoft To Do
Effective Time Management
Author: Trystan C. Bennett
Director of Network Operations, FSi Strategies
A Day in the Life
If you perform many different roles in an organization, or perhaps different roles in multiple organizations, effective time management is essential. To provide you with a little background on myself, I am the Director of Network Operations at FSi Strategies, the Director of Music and organist for a church, an annual recital performer, a volunteer with a few organizations, and currently pursuing an MBA in a full-time program. To complicate things further, I am also neurodivergent with ADHD. The summation, I live with a full agenda of "to-dos."
There are multiple Microsoft products that can help me effectively keep track of everything – Microsoft Outlook Tasks and Microsoft Planner being the most well-known. What if there was a way to combine all these tasks into one unified platform that was easily accessible from anywhere? Enter Microsoft To-Do.
What is Microsoft To Do?
Microsoft To-Do is a virtual daily planner with the ability to integrate with Outlook Tasks and Planner; as well as suggest tasks based on keywords discovered in your email and activities within Microsoft 365. It is available on the web at 'to-do.office.com' or as a standalone app for Windows, Mac, iPhone and Android devices.
The first thing you will see when you open Microsoft To-Do is a blank slate called 'My Day' and a series of suggested tasks on the right-hand side. This blank slate is an intentional design choice by Microsoft, so that you can 'start afresh' every day. That said, To-Do is intended to "set your mind at ease since you will always have a clear picture of what you need to get done." Along with color choices and a calming background, it's clear that a fair amount of thought has gone into designing an application that not only keeps you up to date on your obligations and deadlines, but does so with an intention of reducing your stress and mitigating anxiety.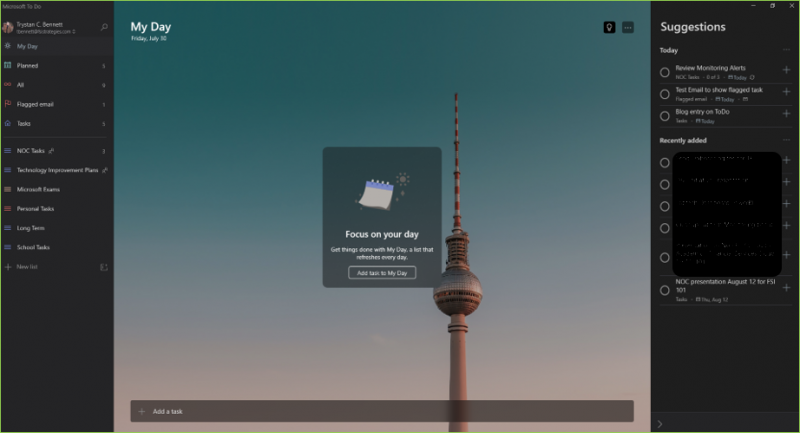 Adding Tasks
The 'Suggested Tasks' to add to 'My Day' on all App version includes a task with today's due-date and/or any recently added or assigned task(s). (Note: to include tasks assigned from Planner and Outlook tasks or flagged emails). The web-version takes this one step further by including suggestions based on things you said or things that were said to you in recent emails:
You can add these tasks from the suggestions panel simply by clicking the Plus icon:
Smart Lists
The second thing you may notice on opening To-Do are the two collections of Lists on the left-hand pane: The first group is generated dynamically and are called Smart Lists. The second group are lists that you can curate yourself. All lists may be customized to include custom colors or backgrounds. Individual lists can also be shared to specific people or groups to facilitate collaboration. This is indicated by the two-person icon, as shown in "Technology Improvement Plans" below, which is linked to a Planner.
Any task item with a due date will show up under the dynamically generated 'Planned' list, and all lists (dynamic or custom) will show up under 'All'. For example, any email flagged from Outlook will show up under 'Flagged email'. Similarly, if you click the star on any task, it will show up under Important Tasks:
To close out any task (or subtask), simply click the circle to the left of each task item. This will mark the task with a checkbox and move it to the 'Completed' task list with a very satisfying 'ding'. Re-adding a task back to your list is as simple as unchecking the checkbox.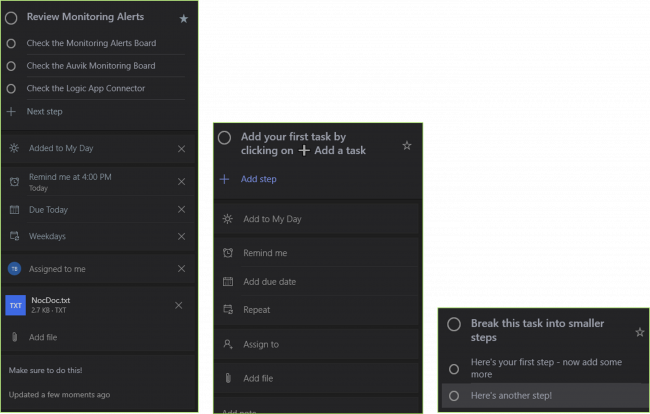 To Do on mobile
Most of our examples shown have been from the Windows Desktop version of To-Do, but it is also worth looking at how seamlessly the application works on a mobile device. In the following examples, we are using an iPhone 8: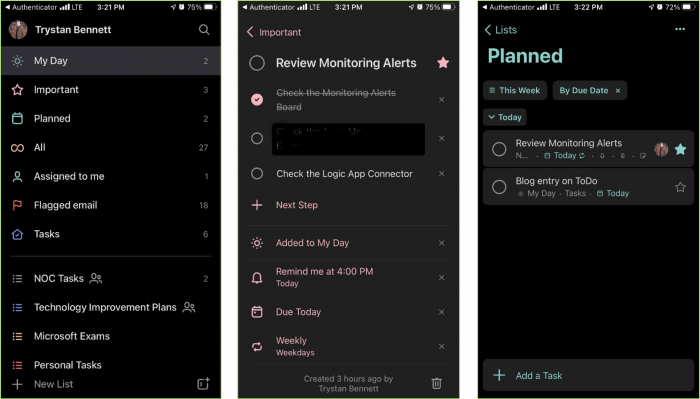 If you are a fan of Outlook Tasks, note that there is also two-way integration between your Outlook tasks and Microsoft To-Do, so that anything added to To-Do will show up under the 'To-Do-List' grouping in Outlook itself:
FSi Strategies is a recognized Microsoft Gold-Certified Partner , since 2003, we've helped our clients successfully leverage the strategic value of technology to achieve their mission. Contact us today to learn more about the power of Microsoft To-Do and how you can optimize your productivity & collaboration.
Start a conversation today.
Ask us about integrating your tools & platforms together – with architectural coherence and extensibility. Designing, implementing and supporting Modern Workplace technology is what FSi Strategies specializes in. We've helped hundreds of businesses implement modern security strategies in support of their missions. We invite you to discover how together, we can leverage the intelligent Cloud for the security and privacy needs of your business.